Strawberry season is the hap-happiest time of the year. Christmas, shristmas!
There is no more perfect food than a delicious, juicy strawberry, fresh from a local farm (or your garden if your super lucky!). They are amazing on their own but I thought I'd try out a flavour that I had a restaurant last strawberry season where they paired the berries with balsamic vinegar. It had incredible flavour with lots of depth.
I started by chopping up the berries (snacking on them as went) and placing them in a large bowl.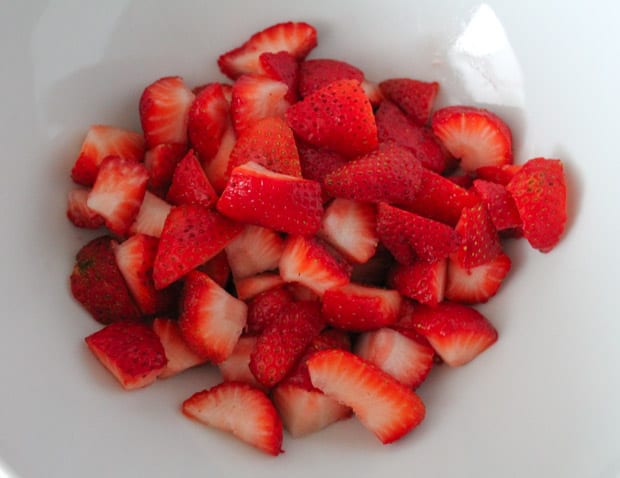 Next place 1/4 cup of balsamic vinegar into a small saucepan.
Bring it to a boil and reduce it down to about a tablespoon. This won't take long so keep your eyes on it and keep stirring. It will also really clear out those sinuses;)
Let the reduced vinegar cool down a bit and then pour it over your berries and add some cracked black pepper.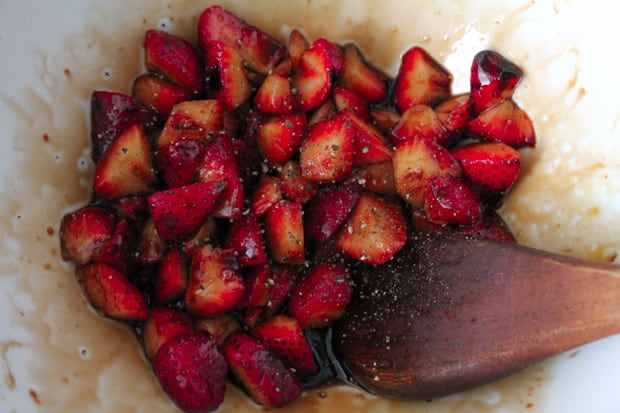 I may not have berries growing but I do have fresh mint so I chopped some up and added it into the mix.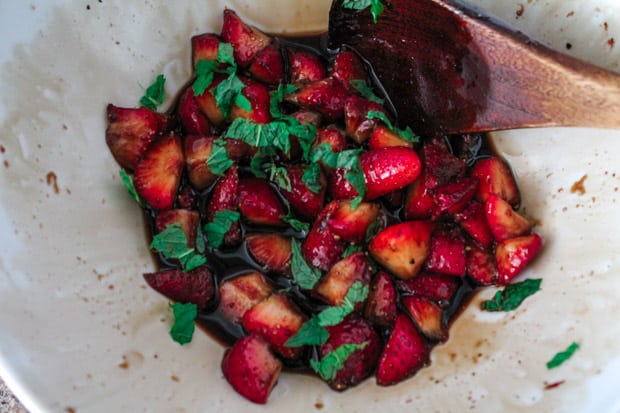 This is soooo good. The balsamic reduction and the cracked pepper takes your berries to a whole new level. Keep in mind that these berries won't keep in the fridge so enjoy them right away. This recipe takes no time to prepare but just screams gourmet. It will impress your friends and family and maybe you will even impress yourself!
As an Amazon Associate I earn from qualifying purchases.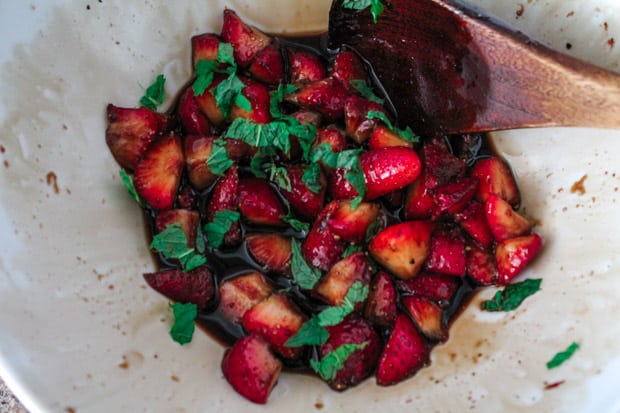 Balsamic Strawberries with Mint & Black Pepper
Keyword:
balsamic strawberries mint pepper
Instructions
Place chopped berries in a large bowl and set aside

Bring the balsamic vinegar to a boil in a small saucepan, stirring constantly and watching not to burn. Reduce the heat to low and continue to stir until it has reduced to about a tablespoon

Remove from heat and let cool

Pour balsamic reduction over the berries and stir. Add in torn mint leaves and a few turns of cracked pepper and stir again
Nutrition Facts
Balsamic Strawberries with Mint & Black Pepper
Amount Per Serving (4 g)
Calories 37
% Daily Value*
Sodium 4mg 0%
Potassium 128mg 4%
Total Carbohydrates 8g 3%
* Percent Daily Values are based on a 2000 calorie diet.