This Gluten Free Angel Food Cake recipe tastes just like the name suggests: heavenly. A dairy free treat that you can sprinkle with dark chocolate or leave it plain and top with fresh berries. Your choice! Any way you slice it, it is delicious.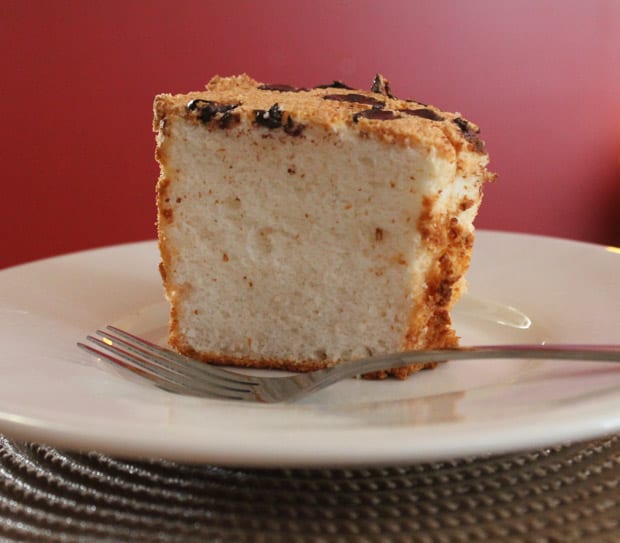 Let them eat cake!
And by 'them' I mean everyone. That includes people with gluten intolerance, health minded folk who want to avoid wheat or refined sugars or just everyday people who eat anything and everything.
This is an awesome angel food cake recipe that is delicious with chocolate chips, like I did, but would also be great with fresh fruit and cream which I will be doing once I get my hands on some fresh, local strawberries. Can't wait!
Unlike typical angel food cake recipes, this one is made without white flour. In its place is a variety of gluten free options that are easily accessible at your local bulk store. The bonus of this is you only purchase what you need and you don't end up with a bunch of bags of various flours and starches.
I do have a quick tip when shopping at the bulk store for white powdery items. Don't wear dark pants! I had a pair of dark jeans on and as I left the store I realized I had flour all over my legs. #messymessymessy
HOW TO MAKE GLUTEN FREE ANGEL FOOD CAKE
Luckily, the amounts of flours and starches are all the same at 1/4 cup, so the measuring out was pretty easy.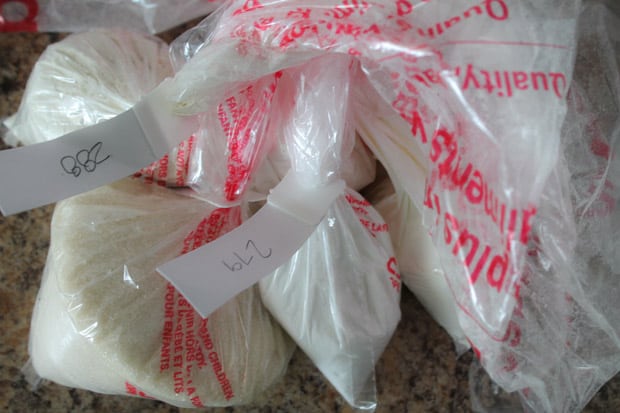 This recipe also calls for 1 1/2 cups of egg whites, which is about 10 eggs.
You may want to just buy liquid egg whites to make life a little simpler.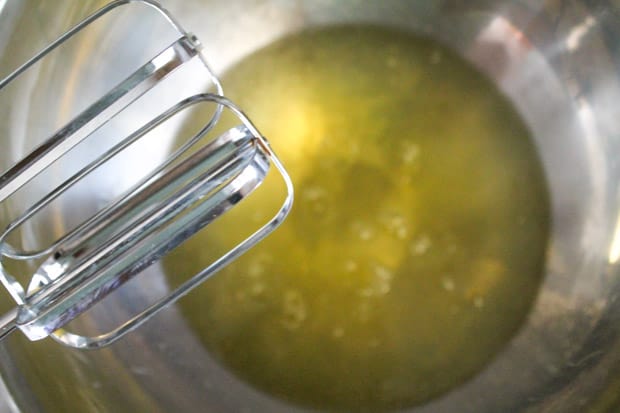 Set the whites aside, in a large mixing bowl at room temperature, for 3o minutes.
In the meantime, sift together 3/4 cup of the cane sugar, flours and starches.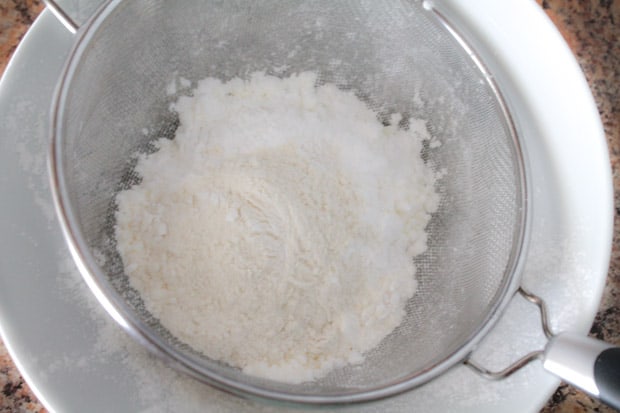 Add the cream of tartar, salt and vanilla to the egg whites and start beating until light peaks form.
Then gradually add the remaining cane sugar until stiff peaks form.
Then with a light hand, gradually fold in the flour mixture.
You want to fold beaten egg whites into the batter to make it light and fluffy by incorporating air into the mix.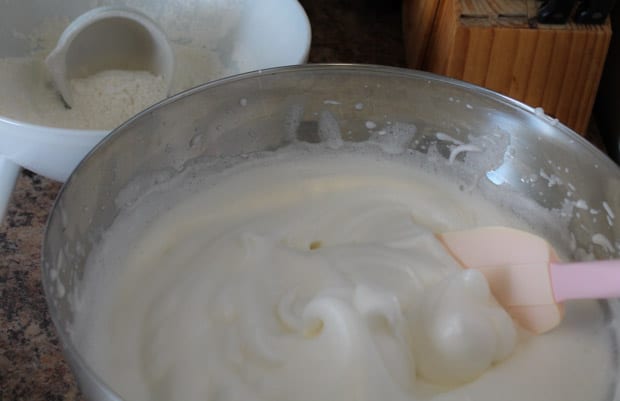 Pour into your tube pan and slice with knife.
This will help to eliminate the air pockets.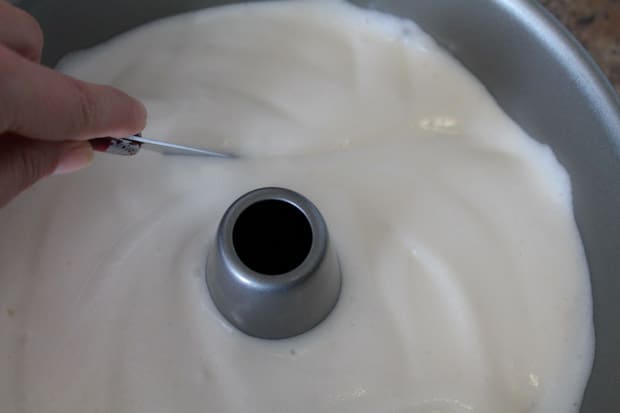 If you are adding chocolate chips I would pour 1/2 the batter in, sprinkle in some chips, pour in the rest of the batter and then add more chips on top.
I only added them on the top and as it is a high cake, I felt it would have been good with chocolate chips throughout.
Bake for about 45 minutes.
The top will be lightly browned.
After it has cooled you are ready to enjoy the pillowy goodness.
This cake is so light and soft. Perfect to try with berries and cream in the summer.
It is tailor made for a crowd pleasing backyard BBQ dessert OR for a holiday party. Great for any season.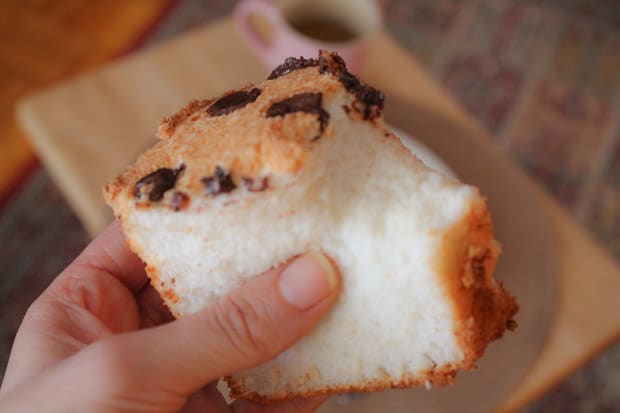 MORE HEALTHY GLUTEN FREE TREATS:
Gluten Free Thumbprint Cookies
This recipe was inspired by the fitnessista who adapted it from this recipe.
*Originally posted May 21, 2013. Updated December 15, 2019*
Be sure to follow me on social media! I love pinning to Pinterest, sharing on Facebook and posting pics to Instagram. See you there. 🙂
As an Amazon Associate I earn from qualifying purchases.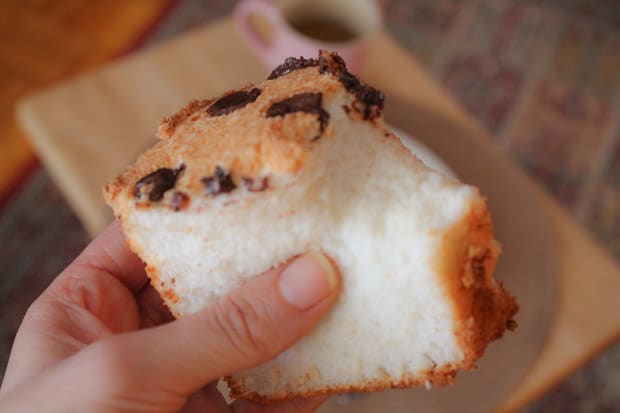 Gluten Free Angel Food Cake
Gluten Free Angel Food Cake tastes just like the name suggests: heavenly. A dairy free treat sprinkled with chocolate or leave plain and top with berries.
Keyword:
gluten free angel food cake
Instructions
Preheat oven to 350

Add egg whites to a large mixing bowl and set aside, at room temperature, for 30 minutes

In a medium bowl, sift 3/4 cup of cane sugar, starches and flours and set aside

Add cream of tartar, salt and vanilla to egg whites and beat at medium speed until soft peaks form

Bit by bit, add in the remaining cane sugar, beating on high speed until stiff peaks form

Gently fold in the flour mixture 1/2 cup at a time

Pour into a tube pan. Slice the mixture with a knife to remove air pockets

If you are adding chocolate chips pour in 1/2 the batter, add in 1/4 cup of chips, then add the rest of the batter and top with the remaining chips

Bake on the lowest rack for 45 minutes, looking for a lightly browned top

Flip the pan upside down onto a rack and let cool for 1 hour

Run a knife around the edges and remove from pan
Nutrition Facts
Gluten Free Angel Food Cake
Amount Per Serving
Calories 212
Calories from Fat 27
% Daily Value*
Fat 3g5%
Sodium 309mg13%
Potassium 308mg9%
Carbohydrates 40g13%
Protein 6g12%
Vitamin C 0.2mg0%
Calcium 41mg4%
Iron 0.4mg2%
* Percent Daily Values are based on a 2000 calorie diet.