7 Day Cleanse – My Routine & Some Tips for Success
Good Morning! I'm getting geared up for my cleanse to start on Monday and I though I'd share my basic routine with you and a few tidbits of info that I've found to be vey helpful for keeping on track.
Of course the first thing is our mantra – You can do anything for 7 days! I have two weaknesses. Coffee and cheese. When I did my first detox, which lasted 28 days, I thought that going without the junky food I used to eat was the tough part but it wasn't. It was the cheese! I love me some cheese:) The coffee thing is relatively a new habit, as we recently acquired a bean grinder and the taste of fresh coffee has become quite the treat for me in the mornings. These things will be returning to my regular routine after this week so I know I can get through it easily, It's only 7 days! Instead of coffee I'll have green tea and instead of cheese…well, there's no substitute for that but I'll survive.
Now, you may have wondered why there was ground flaxseed on the 7 Day Detox Shopping List.
Every morning, right when I wake up, I have a glass of water with lemon and 1 heaping teaspoon of the ground flax stirred in. I stir it and chug it down. This concoction is great for boosting your metabolism and when you drink it first thing in the morning it will help to aid in your digestion for the entire day.
I can be a bleary-eyed, stumbling zombie in the morning, especially without a jolt of coffee, so what I do is pre-slice a lemon and store the wedges in the fridge so all I have to do is squeeze and stir. Boom!
Something I've done for each cleanse is to keep a notebook. I jot down what I ate and the time.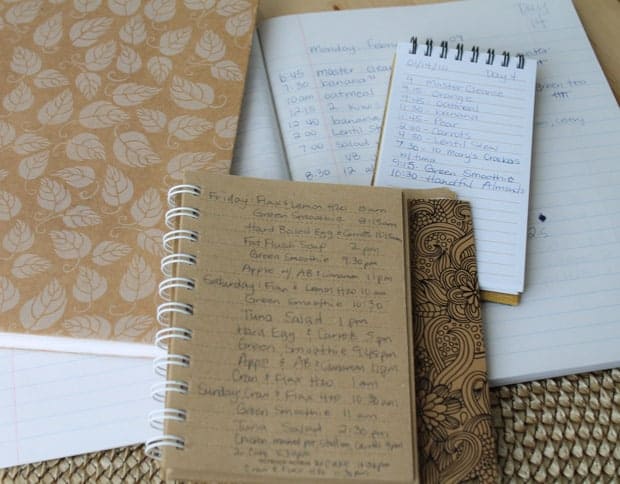 I also keep track of my fluid intake. You will want to have 8-10 cups of water daily. Flushing your system with water or water based drinks, like herbal teas will help to eliminate toxins. There's also a theory that hot liquids sends a message to your brain that you are full, so if you have a craving, steep yourself a nice brew of tea instead!
Drinking the water is something that is so easy, yet so effective. Keeping note of it will increase your awareness of how much you are drinking.
Pinned to my fridge is my meal plan for the week so I know what I'll be having and what I'll need to prepare for it. I also roast a bunch of almonds and hard boil a few eggs so I have them on hand for snacking. In addition I have plenty of bananas browning for my protein pancake and to freeze for smoothies.
So there you have it! This is what I do to get ready. I think that itself is the main key to this. Get ready! Don't think that come Monday morning you are just going to wing it. You need to have all your groceries, your meal plan written down, a notebook to keep track and a positive outlook that not only can you do this, you want to do this! I'm here to encourage you an offer support if you need it:)
Remember, I'm not yet certified as a nutritionist and therefore not qualified to give specific advice. This is based on many cleanses and detoxes I've done.