I left off  Part 1 with the waves lulling me to sleep and I join you again with the view where I enjoyed my morning coffee.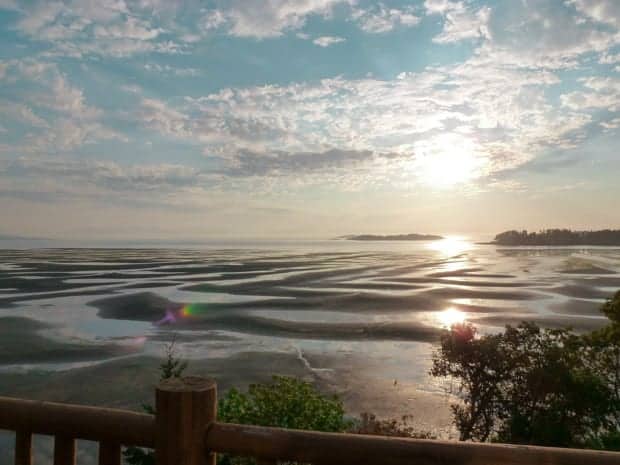 Stunning.
I should mention that we stayed at the beautiful Tigh Na Mara resort in Parksville. Our suite was comfortable, spacious, and there's no beating that view. We got lots of use out of the kitchen and and our balcony.
Something else we got a lot of use out of was the Grotto Spa located on the resort grounds. I don't have any pics of our spa experience as it didn't seem right to be snapping away and I really just wanted to truly unwind. So I've added the one below from their website.

First we spent close to an hour soaking in the Hungarian mineral pool. They had both a cool and a hot pool, which we used both before standing under a cold rain shower. It was so refreshing. I was amazed by the way the water felt thicker and softer than just a regular pool.
Then it was off for our facials which included a parrafin wax of your hands or feet. I went with feet, Julie with hands. The facial was so tranquil. I loved being swaddled up like a baby while a professional slathers me with lotions and potions. At the Grotto spa they use Eminence products which keep with the Hungarian theme.  Eminence uses organic, natural ingredients such as fruits, vegetables, herbs and teas. They are so aromatic. They are also quite pricy! However, since we were spoiling ourselves, Julie and I both purchased one product each and felt no buyers remorse.
After our facials, we wrapped ourselves in the spa's luxurious robes and headed up to the Treetop Tapas & Grill where we enjoyed their signature endless tapas. We noshed on breads with tapanade, scallops, tomatoes with bocconcini, marinated squid, lamb, shrimp, bison, and many other dishes. It was incredibly indulgent and we left the restaurant very full!
After all the food we took advantage of the facilities by using the beautiful rain showers with the posh products to lather up, shampoo and condition. From beginning to end we spent close to 6 hours in the spa! It was pure pampering at it's best:)
The next day we left Parksville and were on the road again to meet my sister in Nanaimo (yes, that's where the bars where invented!) but first it was another trip down memory lane.
As a kid, I spent a week out of each summer at Nanoose Bay Camp. It was attended by children from churches all over BC. Julie even spent a couple of summers there with me despite her non-Christian upbringing. Walking onto the grounds was like literally stepping back in time. Nothing had changed. From the cabins, that had bunk beds lining the walls…
…to the canteen, where we would line up once a day for treats and fruit.
Even this tire was there when I was a kid! Not to give away my age, but it has been over twenty years and everything is still the same.
We ended up chatting with a couple of old timers who have a cabin on the property. They cracked me up when I told them how impressed I was that even the dining hall hadn't changed and the wife said "Oh, that dining room is new! They remodeled it in 1972!". Cute:)
Then it was off to meet my sister at the Calico Cat in Nanaimo. This teahouse is iconic on the island for their tea leaf readings.
I'm not a big 'psychic' person but I do believe there are people that are very gifted and intuitive. We were delighted with the traditional tea that had scones with cream, jam and lemon curd as well as tea sandwiches, fresh fruit and of course, Nanaimo bars!
Then Heather, who is the proprietor, came by to give us our readings.
We loved her and all three of us felt that she gave a very accurate account of each of us. I left there inspired and enthusiastic about the future. Fun!
My sister and I then drove back to Victoria, picked up my brother and continued with iconic nostalgia by heading to the Beacon Drive In for soft serve. It was the perfect end to a perfect day.
Oh, and the french manicure was compliments of my sister and her gel polish skills:)
Again, like Part 1, this post is quite lengthy, so I'll sign off and see you again tomorrow to recap the last few days of my incredible trip.