Classic Chicken Noodle Soup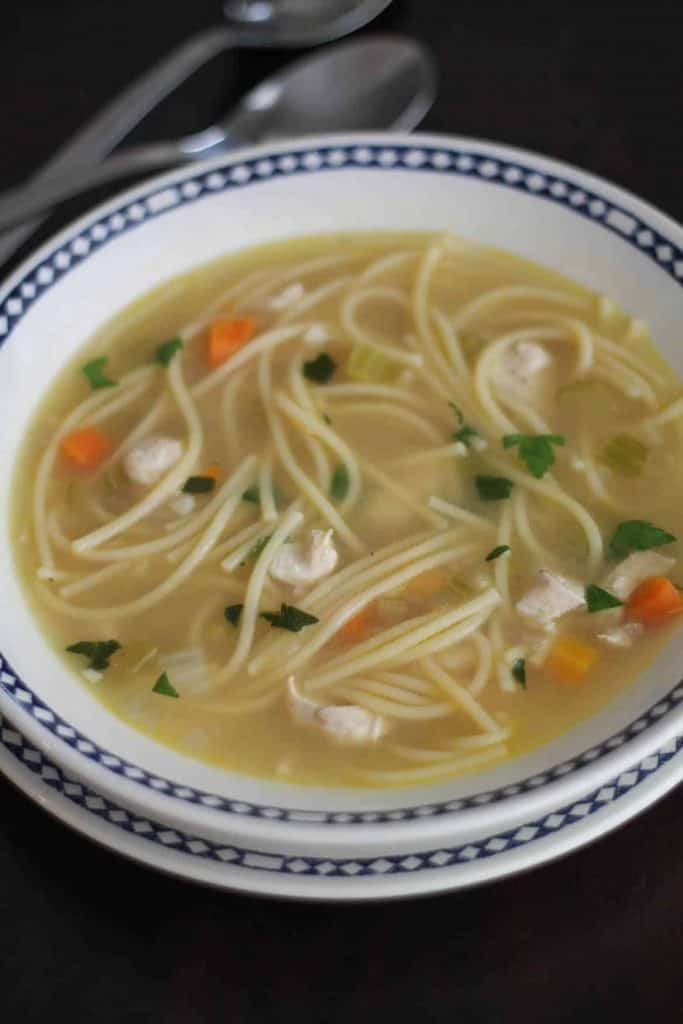 So my eyes are pretty bleary and I've had another action packed couple of days.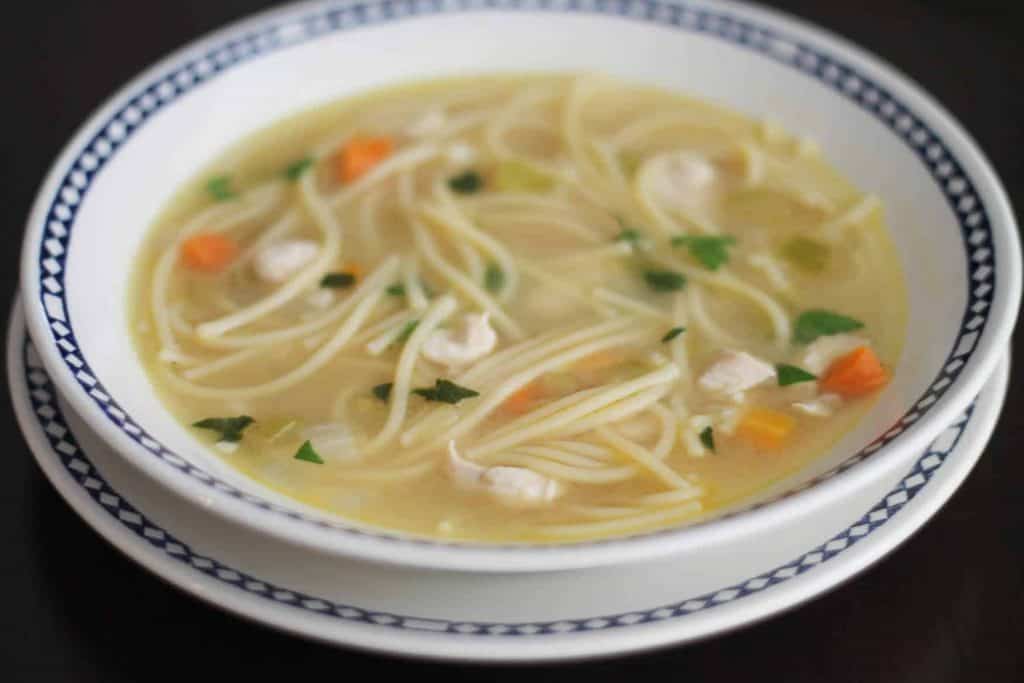 Holy mackerel, we've had a lot of stuff to do since arriving in Vancouver. It's been exactly one week and, I swear, we've been on the go since arriving. Moving across the country is complicated, y'all. 😉
It doesn't help that I've been nursing a messed up baby toe. There is a massive blister on it that is taking its sweet time healing forcing me to become BFF's with the Polysporin tube. TMI? Sorry 'bout that.
Anyway, regardless of my tiredness, I so want to get back into my regular posting routine and really wanted to share this recipe with you guys.
It's the very first thing I've cooked up in my new kitchen and I'm calling it Classic Chicken Noodle Soup.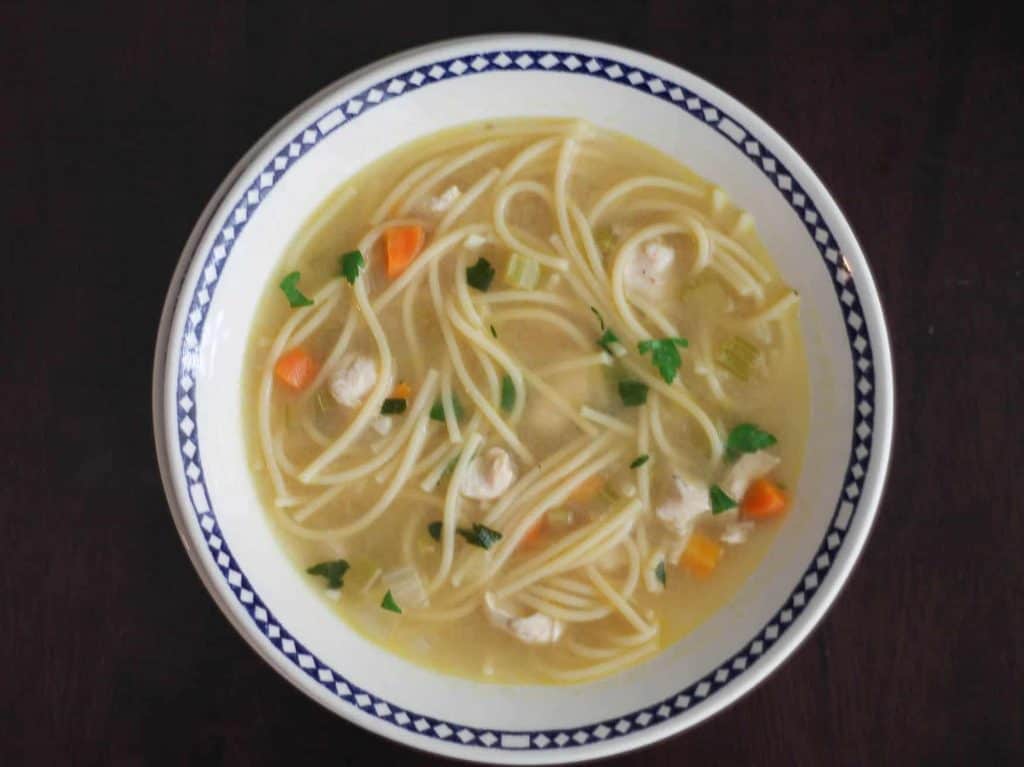 Nothing says Fall has arrived like soups, stews, and the trees turning yellow and red.
I picked up a poultry seasoning blend of fresh parsley, sage, and thyme on our trip to Whole Foods. <–OMG, by the way. I was in health foodie heaven.
The herbs made me think of chicken soup and I knew Joe would like it. Anything classic is right up his alley and comfort food was what we both needed to recharge our batteries.
I used an organic, non-GMO whole wheat spaghetti noodle (thanks again Whole Foods 😉 ), but you can totally use a gluten free noodle if you have allergies. Celery, onions, carrots, boom. A little chicken here, a little broth there, and you're done. We were slurping up our soup in under an hour.
Then we headed down to the beach, which is two blocks from our place. Have I mentioned we're loving Vancouver?
This Classic Chicken Noodle Soup will perfect for the colder days ahead on the wet, oops, I mean West Coast. 😉 Enjoy!

As an Amazon Associate I earn from qualifying purchases.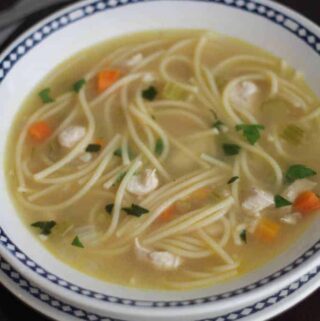 Classic Chicken Noodle Soup - Gluten Free
Instructions
In a large soup pot over medium heat, warm the olive oil and butter. Add the diced onion, celery and carrots, season with salt & pepper, and sauté until softened, 6-8 minutes. Add the minced garlic and stir for another minute

Add the broth and water and bring to boil. Once bubbling, add the chicken and spaghetti noodles. Season liberally with salt & pepper and reduce heat to medium. Simmer for 15-20 minutes, stirring occasionally. Once the noodles are cooked, you are ready to eat! Add the fresh herbs, if using, taste for seasonings and serve

You may need to add more broth if reheating for leftovers
Nutrition
Serving:
4
Calories:
175
kcal
Carbohydrates:
4
g
Protein:
24
g
Fat:
6
g
Saturated Fat:
2
g
Cholesterol:
80
mg
Sodium:
170
mg
Potassium:
507
mg
Sugar:
1
g
Vitamin A:
2735
IU
Vitamin C:
5.8
mg
Calcium:
20
mg
Iron:
0.6
mg