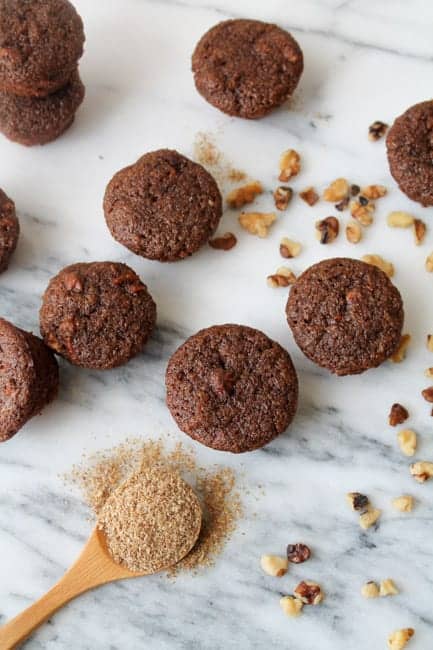 We all know that breakfast is the most important meal of the day, yes? I would venture to say that we all love our sleep too, which is why so many people are guilty of skipping this oh-so-crucial meal. A good strategy to ensure you aren't missing out on significant fuel for your day is to bake up some wholesome goodness ahead of time, then you are prepared to just grab and go on those busy mornings.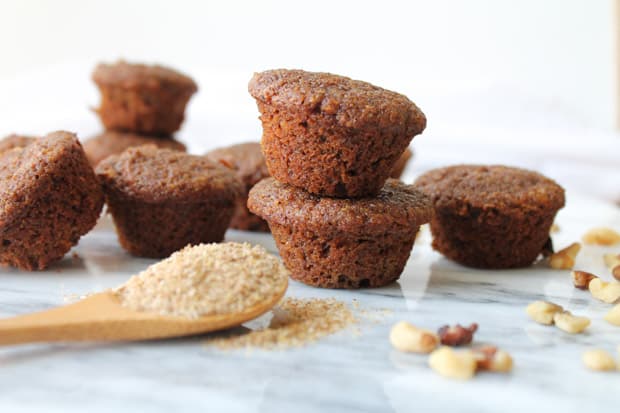 My inspiration for these delightful little breakfast bites was a bountiful gift box from my new best friends at North Coast Naturals. They generously sent me a number of their products to sample and the first up was this fibre packed blend of flax, psyllium seed, and probiotics called Ultimate Daily Cleanse.
Truth be told, considering I just finished my Master Cleanse, anything with the word cleanse in it makes me shudder slightly, but I'm just so excited to be enjoying food again I let it pass. 🙂
I mixed up the dry ingredients, the Daily Cleanse, some ground flax, cinnamon, nutmeg, etc.
Combined it with the wet ingredients and let them sit for ten minutes. This was a great tip I learned from Cindy at Pick Fresh Foods. Blogs are such wonderful resources! I learn new stuff all the time.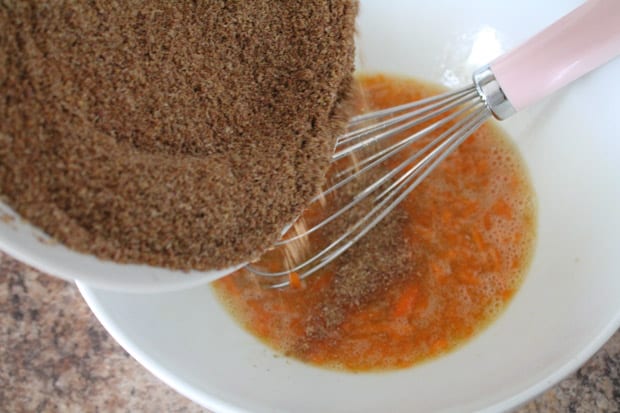 I had a little too much batter for my mini muffin tin, so I poured the rest into a wee heart tin that I had kicking around for ages. Joe and I split the heart cake for dessert after my first post cleanse meal. Awwwww. <3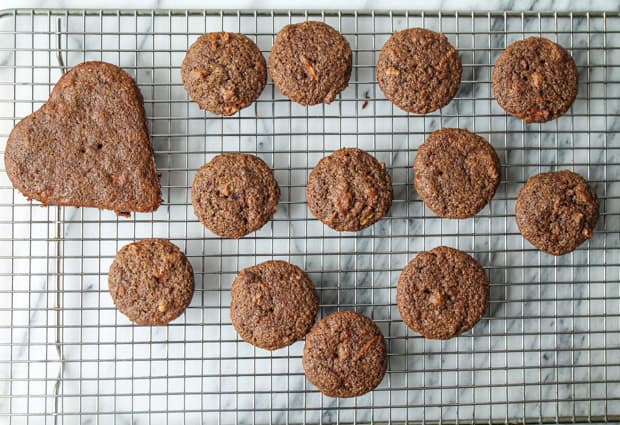 They came out perfectly. A nice balance of hearty goodness with a hint of sweetness and touch of crunch from the walnuts. I like the mini muffin size so I can pop one into my gullet before the gym and have energy without feeling full. Have two or three for a full breakfast.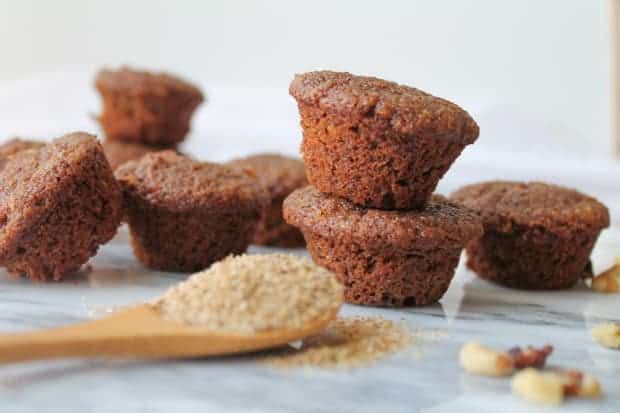 Keep reading after the recipe for the milestone news I want to share with you and a great giveaway from North Coast Naturals!
As an Amazon Associate I earn from qualifying purchases.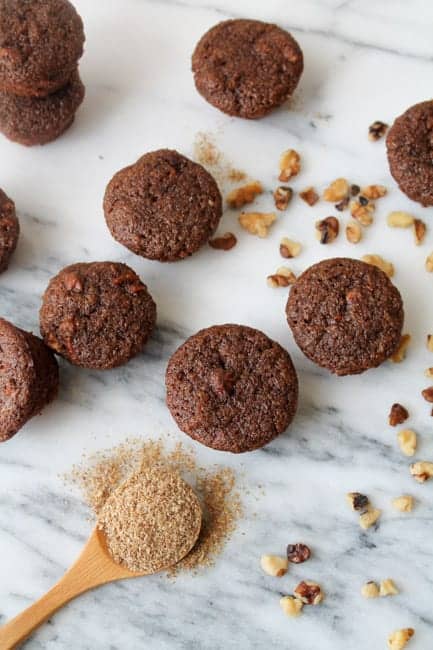 Carrot Walnut Breakfast Bites
Keyword:
carrot walnut breakfast bites
Servings
:
15
mini muffins
Instructions
Preheat oven to 350 and grease a 12 mini muffin tin very well

Mix the dry ingredients together, and in a separate bowl the wet ingredients

Stir them together and let stand for 10 minutes

Using a small scoop, fill the muffin cavities and bake for about 20 minutes or until toothpick comes out clean

Let cool for 15 minutes then loosen the muffins from the sides of the tin and transfer to a wire rack
Nutrition Facts
Carrot Walnut Breakfast Bites
Amount Per Serving
Calories 93
Calories from Fat 45
% Daily Value*
Fat 5g8%
Cholesterol 21mg7%
Sodium 57mg2%
Potassium 119mg3%
Carbohydrates 8g3%
Protein 2g4%
Vitamin A 745IU15%
Vitamin C 0.2mg0%
Calcium 42mg4%
Iron 0.5mg3%
* Percent Daily Values are based on a 2000 calorie diet.
I'm not one for celebrating birthdays buuuuuut, The Honour System turned the big one year old this past week! The time has simply flown by. I knew I was going to enjoy writing this blog but I did not expect it to become the passion that it has. My mind is constantly occupied with recipe ideas, photo set-ups, and generally anything I think the wonderful people that click on my site would be interested in.
I've learned a lot over the past year, like the above tip about letting your muffin batter sit, honey is in fact not vegan (oops!), and having one of your recipes featured on Buzzfeed will get you a ton of traffic.
I've realised how supportive and encouraging my love, Joe is. He looks at hundreds of photos, telling me which he likes best, tolerates my endless hours on the laptop and often tells me how impressed he is with my little site. He also suffers through many, many taste tests. #sarcasm
But the number one thanks goes to YOU. The ones who click on my site, leave lovely comments, and share or pin my recipes. Some of you I know personally, some through the magic of social media, and of course, my fellow bloggers. I can't express to you all my gratitude for making this website a true labour of love and igniting my fire to keep creating delicious, healthy recipes for all of us to enjoy. My deepest, most sincere thanks to all of you!
To celebrate my milestone, my friends at North Coast Naturals are generously offering an excellent variety of their products to one lucky Canadian reader. You have until midnight on Sunday to enter. Check out the rafflecopter below for details.
For you beautiful creatures in countries other than my beloved Canada, don't feel ignored! I have another great giveaway planned for the start of summer, so stay tuned!
Much love to you all! xxoo