Easy Beef Chili with Cilantro & Avocado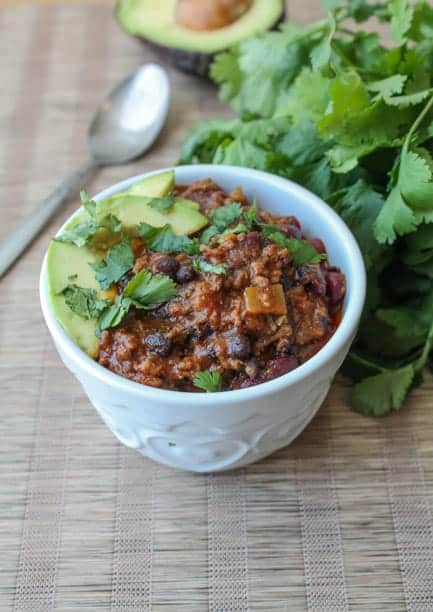 Spring is around the corner, right? I should be savouring these last moments, where a bowl of hot chili warms my bones. Right? I guess I could sound a tad more convincing, if only this winter hadn't been extremely, brutally cold, freezing and snowy. I've warmed the bones more times than I can count. I'm ready for salads, fresh cut fruit, sandals. I'm ready for it all.
However, it's still winter in Southern Ontario. My bones were cold. So, I made chili.
Certain times of the month are good to up your iron intake, if you know what I mean. 😉 I'm not a huge red meat eater, but every so often I have a good Bolognese sauce with quinoa or treat myself to a steak when out to dinner. This month, I went with a classic Chili con Carne. To make it seem I little more like spring, I sliced up a creamy avocado on top and sprinkled it with fresh cilantro. These clean flavours also helped to balance out the spices, which were pretty fiery!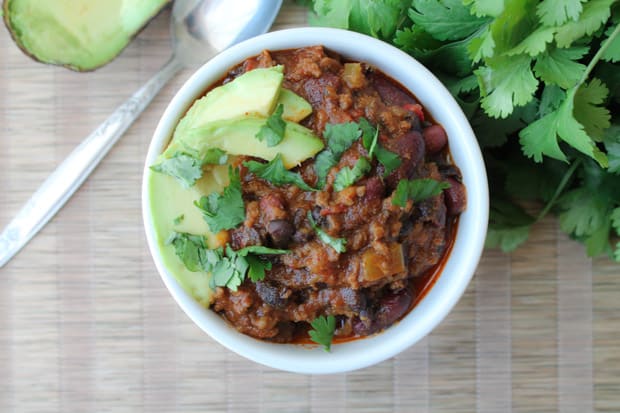 While my beef was browning, I prepped my veggies. On the chopping block was a nice red pepper, some celery, garlic and onion. I cheat with the tomatoes by adding half a bottle of salsa. Choose your own heat level. 😉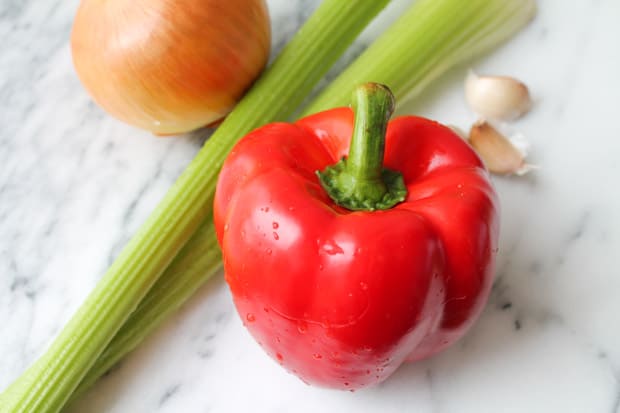 A nice blend of dry spices is crucial. Simply sprinkling in some chili powder just won't do. I love smoked paprika, cumin and a good kick of cayenne. The key to a nice, flavourful chili is giving it a chance to simmer and let the spices develop. I let mine stew for a good two hours.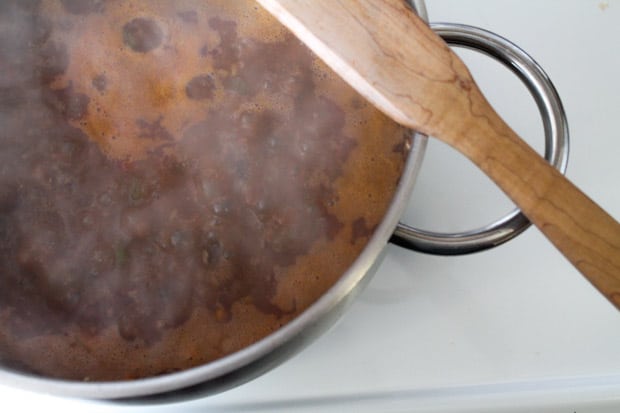 Chili is ideal for many reasons. The first and foremost being that it is always a crowd pleaser. People can customize chili how they like it. I add avocado, maybe you add cheese. Another great thing about chili is making big batches to freeze and have on hand for the next cold day. Because the cold days are still coming. Aren't they. Sigh.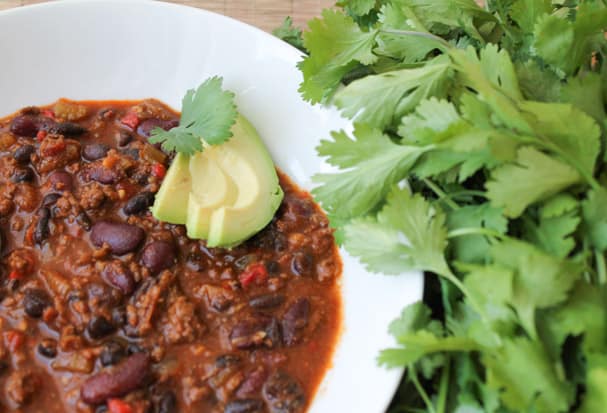 As an Amazon Associate I earn from qualifying purchases.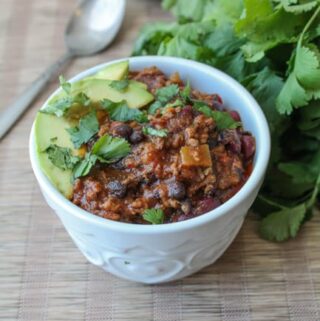 Easy Beef Chili with Cilantro & Avocado
Instructions
Heat 1 tbsp of olive oil over medium heat. Add the beef and cook until fully browned with no pink. Strain the beef and set aside on a plate

In the same pot, heat 1 tbsp of olive oil and add in the chopped veggies, sea salt & fresh pepper. Sauté until soft, about 5 minutes. Add in the garlic and stir until fragrant

Add the beef back into the pot and sprinkle in the spices. Stir well

Pour in the salsa, tomato paste, beans and broth, stir well and bring to a quick boil

Lower the heat to medium low and simmer for 1-2 hours

Garnish with fresh avocado slices and chopped cilantro
Nutrition
Calories:
252
kcal
Carbohydrates:
14
g
Protein:
18
g
Fat:
14
g
Saturated Fat:
3
g
Cholesterol:
46
mg
Sodium:
1094
mg
Potassium:
763
mg
Fiber:
5
g
Sugar:
5
g
Vitamin A:
2710
IU
Vitamin C:
33
mg
Calcium:
46
mg
Iron:
3.2
mg