So if goat cheese and arugula sounds familiar to you, it should. I posted an arugula salad with goat cheese and sweet potato recipe on Monday. Yum! Love this combo.
Granted, I don't usually post recipes with really similar ingredients so close to one another, buuuut a gingerbread cookie mishap kinda made that timing decision for me. It's also kind of a reality. If you buy a log of goat cheese to make the salad mentioned above, or a frittata or something, chances are there will be some leftovers that will need to be used up.
We have a joint goal at our house to eat all of the food in the fridge/cupboards before anything goes off. At one time we would throw so much food away and not even really care. That has totally changed and now when it comes to shopping day we have an empty pantry just begging to be filled up.
And I LOVE putting away my groceries. Everything has a specific spot to go and the proper direction to face. I remember Kathy Griffin making a joke about that old Julia Roberts movie "Sleeping with the Enemy". In the plot, Julia's character is married to an abusive and OCD husband. His 'signature' deal was that all of the cans in the cupboard needed to have their labels facing out. Kathy's joke was that she "could've made that relationship work!" I agreed! Doesn't everyone want the labels in the same direction and the towels hung up evenly? Really! Deep down, I think everyone does. Right? 😉
Anyway, I'm rambling. Back to the food.
This pasta was really just off the cuff and really wasn't intended to be a post but when my cookies perished in the oven (RIP) and this pasta tasted so light, fresh and delicious, it was fate. I also had lots of lemons on hand as a photo props. Pretty!
This spaghetti ( I used a brown rice variety ), took twenty minutes to make from start to finish. Great weeknight or busy weekend lunch option.
While the pasta is cooking you can measure out the sauce ingredients into a big bowl. When the pasta is cooked and drained pour it into the same large bowl and give it a good toss.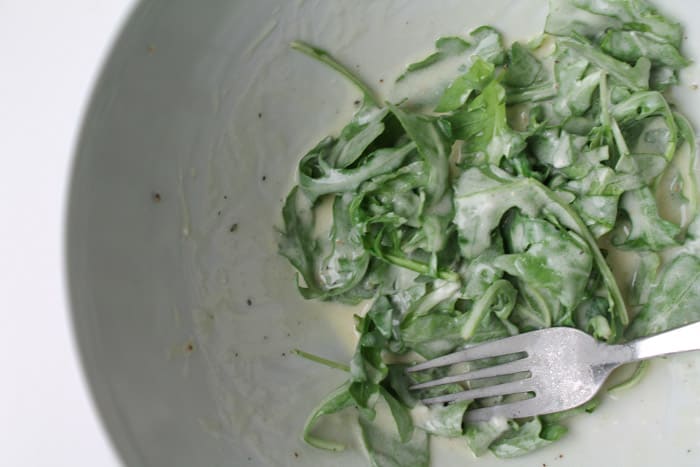 The arugula wilts just enough from the heat to soften but still has texture. The goat cheese melts into the olive oil to create the nicest little sauce. No garlic for a change, so if you've got a hot date? No worries. Just make sure you both like the milk put away in the top right corner of the fridge. 😉
Enjoy!
Spaghetti with Goat Cheese, Lemon & Arugula – Gluten Free
Ingredients
1/3 package of brown rice spaghetti
1/2 lemon zested and juiced
3 tbsp olive oil
1/4 cup goat cheese
2-3 handfuls arugula
sea salt & pepper, to taste
Instructions
Cook pasta to package instructions
Meanwhile, in a large bowl, stir together the oil, lemon juice, sprinkle of sea salt and lots of fresh pepper. Add in the goat cheese, stir then add in the arugula
Spoon 2-3 tablespoons of the hot pasta water over the greens and stir again
Pour the cooked/drained spaghetti in the same bowl as the dressing and arugula and toss well
Portion into 2 bowls
Garnish each with lemon zest
7.6.7
434
https://thehonoursystem.com/spaghetti-with-goat-cheese-lemon-arugula-gluten-free/