Like most typical families we have days when, for one reason or another, dinner comes from the delivery man. I try to limit these events to maybe once a month, but they do happen. Last time we ordered Chinese food and, well I don't know about you but, I find delivery dinners never really live up to my expectations. This inspired me to cook up my own Sweet & Sour Chicken.
The Sweet & Sour Chicken that came in the familiar red takeout box were lackluster, to say the least. I struggled to find the chicken and the bright red, syrupy sauce, while delicious, I'm sure was a chemical cocktail of additives and preservatives.
This homemade version of the favourite Sweet & Sour Chicken contains no chemicals, is sweetened with coconut sugar. Arrowroot starch and eggs stand in for the batter. I also avoid a sh*t ton of sodium by using my homemade faux "soy" sauce.
Sounds (and looks ) much better, yes?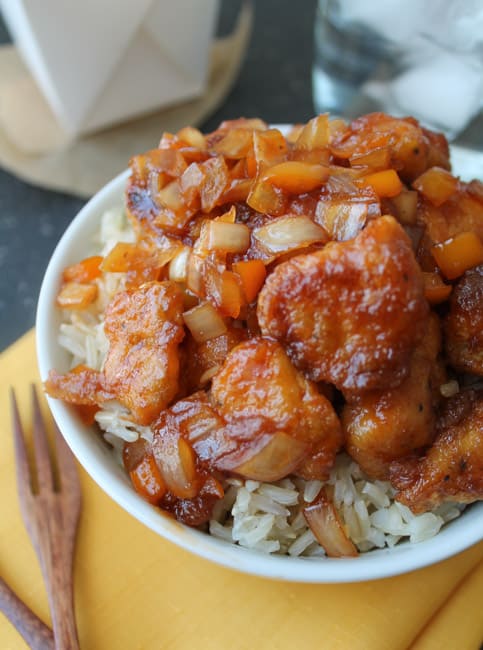 Set yourself up a little breading station to dip your arrowroot covered chicken pieces into your egg wash. They get flash cooked in a hot skillet with coconut oil. Did you know coconut oil is very stable at high heats? Perfect for this type of cooking. Trust me, your food will not taste tropical. 😉 And yes, I think arrowroot starch is like $7 a bag but it is totally worth it if you are on a gluten free diet. It will last you forever. Buy it.
Transfer your chicken to a casserole dish, layer with some chopped veggies and cover with your sauce. This gets popped into the oven to get all delicious-like. I made my rice in the meantime. Have you tried my fool-proof method for cooking brown rice? I swear by it.
My version was a hit with my picky fella and I have a feeling the Chinese delivery to our house will be fewer and far between. 😉
Adapted from this recipe from Better from Scratch.
Sweet & Sour Chicken – Gluten Free
Ingredients
2 chicken breasts, cut into bite sized pieces
1/2 cup arrowroot starch
2 eggs, beaten
2-3 tbsp. coconut oil
1/2 medium onion, diced
1/2 bell pepper, diced
3/4 cup coconut sugar
1/4 cup ketchup
1/2 cup vinegar
1 tbsp. faux soy sauce (or soy sauce)
1 tsp. garlic powder
Instructions
Preheat your oven to 325 and lightly grease a 9x9 casserole dish
Add arrowroot starch to a large Ziploc bag and set aside. Season your chicken pieces with sea salt and pepper, then place in the Ziploc. Close the bag and shake it well to coat all of the pieces
Set up a breading station with the eggs beaten in a bowl and a clean plate
Cover each piece of chicken with the egg and place it on the clean plate. Once they are all coated, heat a skillet with 2 tbsp. of coconut oil over medium high
Place chicken pieces in a single layer in the hot skillet (do 2 batches if necessary and adding more coconut oil if needed) cook on each side for 30 seconds, flipping only once. (it will finish cooking in the oven)
Transfer the cooked chicken to the prepared casserole dish and cover with the chopped peppers and onions
In a medium sized bowl stir together the coconut sugar, ketchup, vinegar, faux soy sauce and garlic powder
Pour half of the mixture over your chicken and veggies and pop into the oven for 40 minutes, stirring once at the halfway point
Transfer the remaining sauce to a small saucepan and keep it aside until the chicken is ready, then heat it up to pour over each bowl as desired.
I serve this over brown rice, which cooks perfectly while your chicken is in the oven
7.6.4
469
http://thehonoursystem.com/2015/02/25/sweet-sour-chicken-gluten-free/