If you have yet to attempt to make chia seed jam – please wait no longer. It's got to be one of the easiest/yummiest things going.
Can you make a smoothie? Then you can make chia jam.
Boom.
Since delicious, ripe strawberries are in abundance, strawberry jam it is.
I've made a version of this before with raspberries. That recipe uses local honey as a sweetener, which is also so good, but not considered vegan in the case you eat a vegan diet . But use what you have. Either pure maple syrup, like this version or honey works like a charm.
The multifaceted chia seed really takes centre stage. If you follow me on Facebook, you may have seen an infographic that I posted about the benefits and importance of vitamin B3. It can promote a good nights sleep and reduce symptoms of anxiety among other things. Chia happens to be a good source of B3.
It can also make fruit into jam. 😉 Amazing!
All you have to do is let your seeds soak into water for ten minutes and it becomes a gel-like substance.
Meanwhile, chop up your berries. Beautiful ruby coloured morsels. I love strawberries.
Toss the chia along with the berries, maple syrup into the blender and pulse it until smooth. If you want to leave a few small chunks of strawberry that is totally up to you.
Pour it into a glass jar and you are now a maker of jam. How impressive!
Your jam will keep in the fridge for up to a week, but it most likely won't last that long. Joe loves homemade chia jam and literally spoons it directly into his mouth from the jar. 😉 We also had it on toast for Sunday morning breakfast and it was per-fection.
You should try it this Sunday. So yummy with a nice cup of coffee. Have a great weekend all!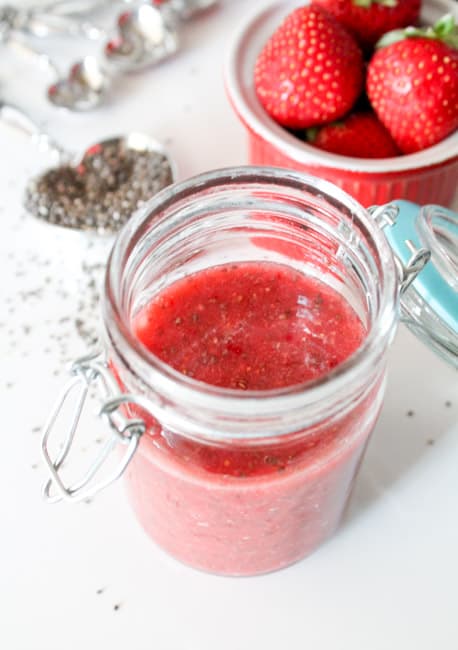 Strawberry Chia Seed Jam – Vegan & Gluten Free
Ingredients
1 tbsp chia seeds
2 tbsp water
1 cup strawberries, sliced
2 tbsp pure maple syrup
Instructions
Soak the chia seeds in water for ten minutes
Meanwhile, rinse and slice your berries
Add all ingredients to blender and blend until you reach your desired consistency
Store in the fridge in a glass jar
7.6.4
396
http://thehonoursystem.com/2014/08/22/strawberry-chia-seed-jam-vegan-gluten-free/