24 International Recipes To Celebrate The Fifa World Cup
Spread out a buffet of your favorite team's most popular dishes! Enjoy winner World Cup themed recipes for Swiss Raclette, Korean Rice Balls, Brazilian Coxinhas, American Hot Wings, and more.
As an Amazon Associate, I earn from qualifying purchases.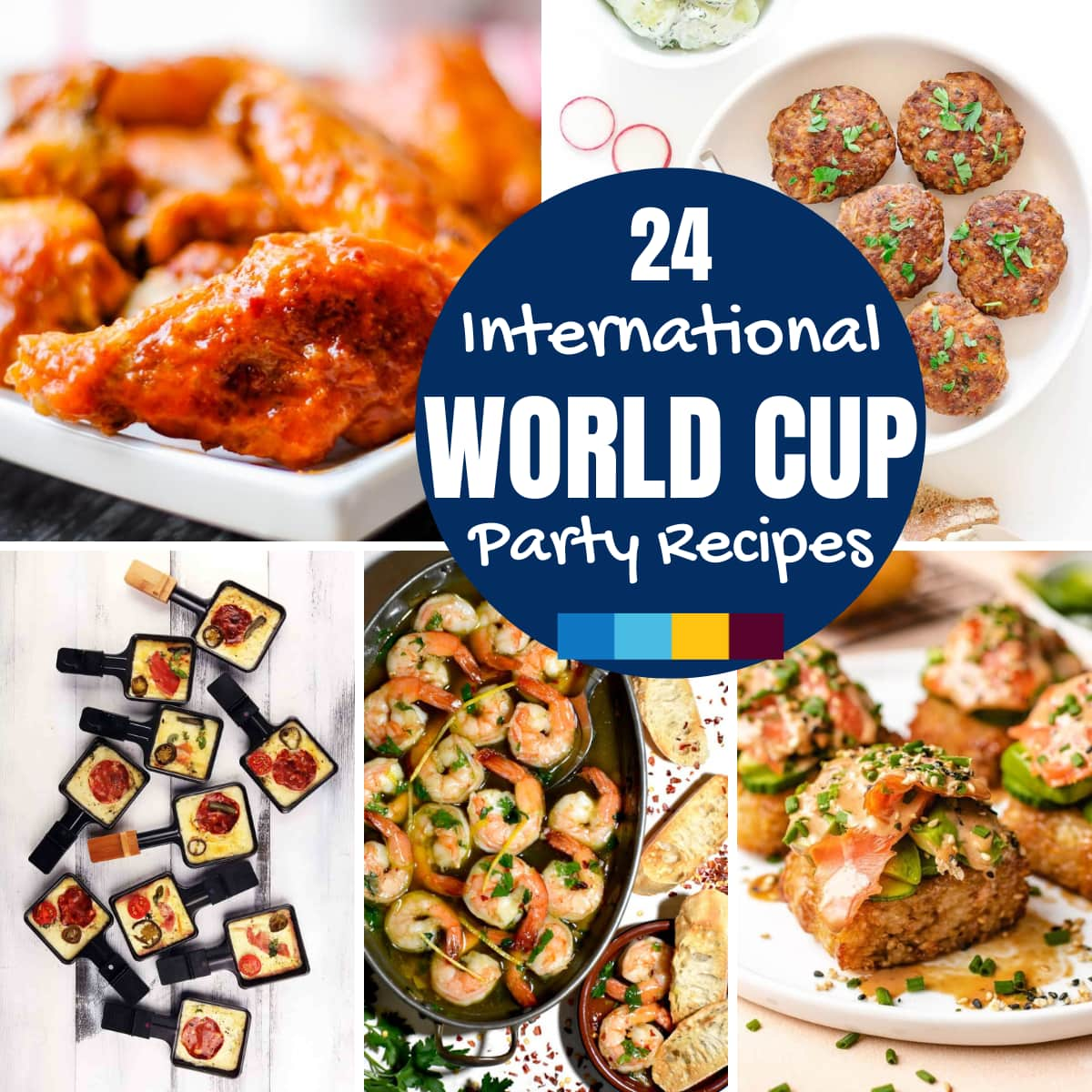 Get ready to feast your way around the globe and celebrate the biggest soccer tournament in the world.
IN THIS POST: Everything you need to make World Cup Party Recipes
Group A
Qatar – Chicken Shawarma Pizza is a Middle Eastern-style pizza that contains an Arabian marinated spiced chicken baked in the oven. And it has toppings of black olives, red onion and it is drizzled with yogurt garlic sauce.
The Netherlands – This Appeltaart combines all the fall flavors of apples and cinnamon in a pastry. A delicious pie that you can share with your guests.
Group B
USA – These delicious Crispy Baked Hot Wings are the perfect recipe to serve up at game time!
Iran – These Persian Walnut Cookies are easy to bake, and naturally gluten free. They have a great flavor and texture, perfect for a cookie plate.
Wales – Welsh Rarebit (aka Welsh Rabbit) is a classic British dish of smooth, velvety, and savory cheese sauce that's broiled on toasted bread. It's hearty, satisfying comfort food that whips up in just 10 minutes.
England – This easy recipe for Coronation Chicken is full of flavour. Creamy from rich mayo, sweet, and spicy, it is a dish fit for royalty. Enjoy this classic in sandwiches and salads.
Group C
Mexico – Stir up many layers of flavor in this recipe for Sopa de Lima a chicken lime tortilla soup from the Yucatan state in Mexico. A healthy sopa recipe will be a hit at your party. Soup for the soul!
Serve it up in these super cute Mexican-themed bowls.
Argentina – These irresistible Argentinian Alfajores are soft, sweet, and crumbly shortbread sandwich cookies filled with dulce de leche. They are so soft they melt in your mouth. Add them to your dessert table for your World Cup event!
Poland – Forget the average potato salad and try this instead! Surówka (pronounced suˈrufka) is Polish sauerkraut, carrot, and apple salad that's perfect for a party. Best of all, it's a raw salad so there's no cooking involved.
Group D
France – Clafoutis (pronounced kläfo͞oˈtē) is a cherry treat from the Limousin region of southern France. Delicious baked cherries nestled in fluffy custard will have your guests clamoring for seconds.
Australia – Traditional Australian Cookie, these Chewy Anzac Biscuits are a coconutty delight!
Denmark – These Danish pork meatballs known as Frikadeller are so delicious, versatile, and easy to make. Can be made smaller for the perfect finger food for a party.
Group E
Spain – How does a sizzling platter of garlicky, seafoody goodness sound? Grab some crusty bread for sopping and whip up this famous Spanish tapa, Gambas al Ajillo.
Japan – Crispy Rice Sushi made in an air fryer! Add any toppings you like. This crunchy rice sushi makes the best party finger food.
An Air Fryer is a super useful kitchen tool and perfect for making party nibbles.
Germany – Learn how to make German Frikadellen – a flavorful meat patty that is a cross between a meatball and a burger. Delicious served hot or cold.
Group F
Morocco – Zaalouk is an amazingly delicious eggplant dish from Morocco. It's typically used as a dip and perfect for a party.
Don't forget the Pita Chips to go along with it.
Croatia – These Balkan beef and lamb kebabs have become a family favorite and grill up perfectly when you are looking to break away from the norm at your World Cup party.
Canada – Nanaimo Bars are a classic Canadian three layer treat you will fall in love with! These chocolate-covered bars are just waiting to conquer the world the same way as they did their home country!
Belgium – These Mini Biscoff Cheesecakes with Biscoff Whipped Cream topping are a decadent and delicious little treat that is great for a party.
Group G
Brazil – Coxinhas are crispy chicken croquettes that are a popular street food choice in Brazil. Perfect appetizer recipe for your World Cup party.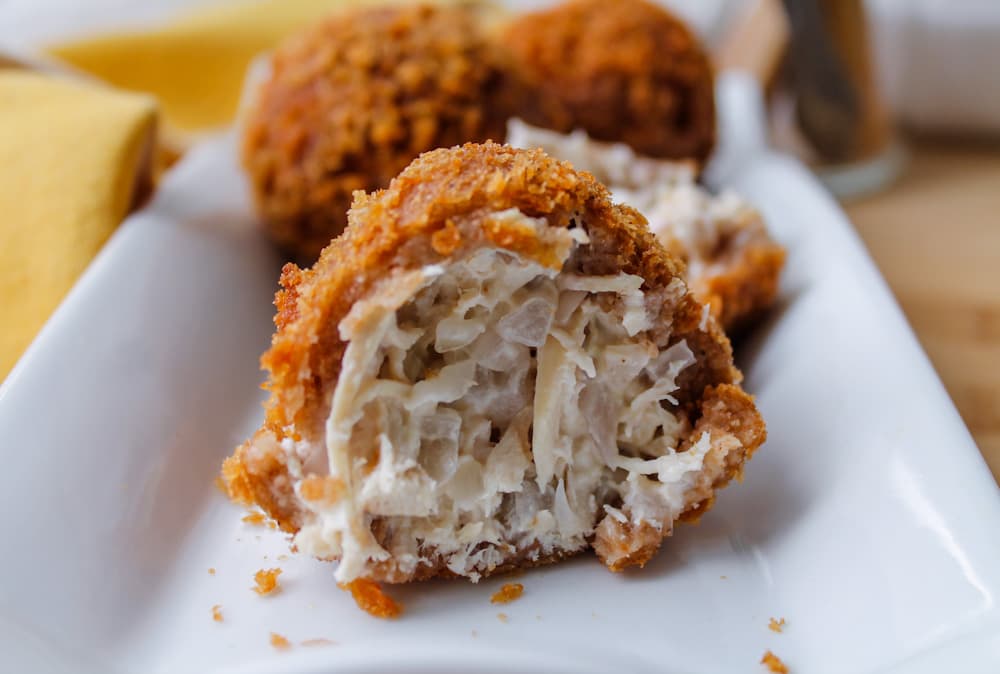 Switzerland – Perfect for parties and sharing with friends. Add Raclette to your world cup party menu. It is easy, fun, and delicious!
Make the party more festive with your own Raclette Grill!
Group H
South Korea – Jumeokbap, or Korean Rice Balls, are perfect for a party! Make easy rice balls stuffed with ground beef bulgogi in just 30 minutes.
Portugal – This Spicy Portuguese Shrimp is a fusion of Portuguese and African flavors. The dish is packed with flavor from the sautéed onion and garlic, with a hint of spice from the African Peri Peri, and a hint of Mediterranean flair.
Uruguay – Chivito is a steak sandwich of epic proportions. This national dish of Uruguay is topped with grilled steak, ham, bacon, melted mozzarella cheese, diced olives, lettuce, tomato, and topped off with an optional fried egg.
Enjoy the tournament everyone! I hope your team enjoys success.
If you've tried any of these World Cup Party Recipes, please rate the recipe and let me know how it turned out by leaving me a comment below. I'm always interested in feedback!
Be sure to follow me on social media! I love pinning to Pinterest, sharing on Facebook, and posting pics on Instagram. See you there. 🙂
More useful roundup posts