I have a serious problem at work …I  can't stop eating biscotti!!!! There is an unlimited supply of delicious biscotti at my disposal every.damn.day. Of course these little devils consist of nothing but white flour, white sugar and the ever popular chocolate-y coating. Once I have one, it's all downhill and the next thing you know I've managed to eat 5 biscotti.
So I've devised a brilliant plan to stage something equally as crunchy and satisfying next to said biscotti at work so I'll be snacking on something much heathier and guilt free.
These dry roasted almonds are easy peasy to make and fit the bill for the salty sweetness I crave.
Start with raw almonds and sprinkle 2-3 pinches of sea salt all over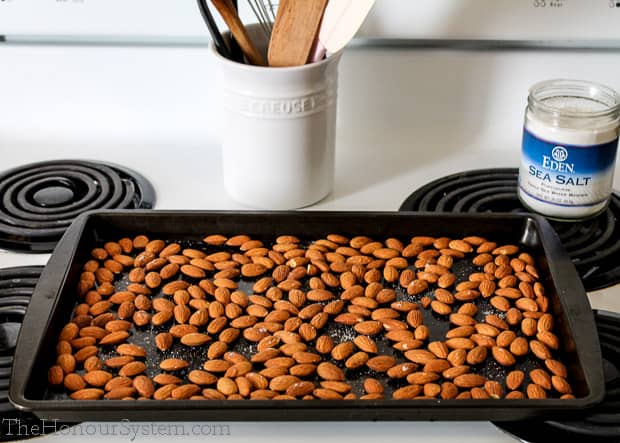 And put them in a preheated oven for about ten minutes.
They start out looking like this: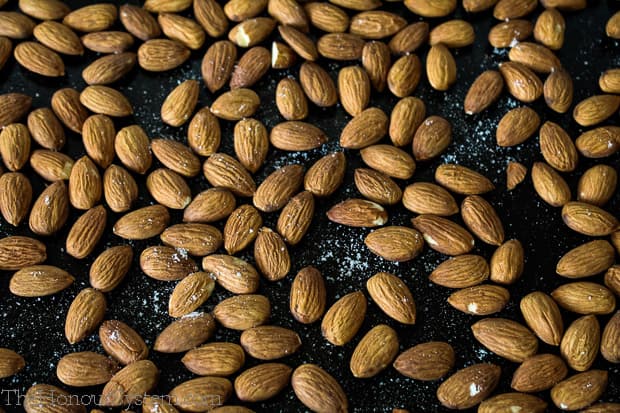 And end up all roasty toasty like this: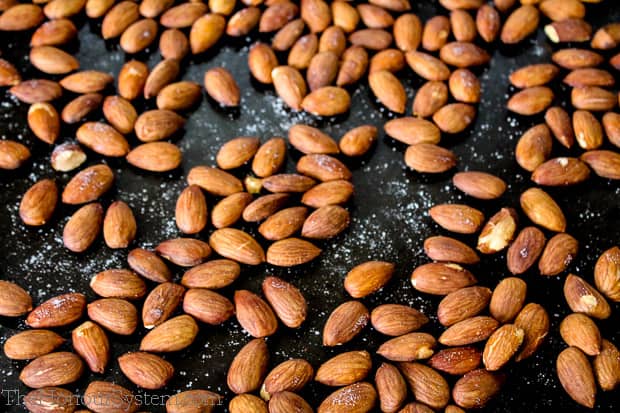 I like to give them a shakey shake about 10 halfway into the roasting time to make sure they aren't burning and so that the sea salt can start to absorb. When the almonds heat up the salt will start to soak in. Keep your eyes on them as all ovens heat to different temperatures and you don't want to waste all those almonds and end up with a charred mess.
Let them cool for about 10-15 minutes before you taste them. Trust me on this one … they taste super weird right out of the oven.
Then I pack up a little container and head off to work prepared to stare down the biscotti monster and win!
Enjoy!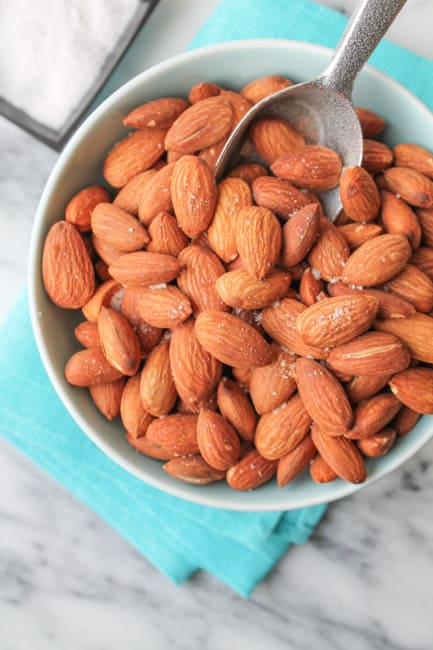 Ingredients
1 1/2 cups raw almonds
1/4 tsp sea salt
Instructions
Heat your oven to 375
Spread the almonds on a baking sheet and sprinkle with sea salt
Roast for ten minutes, shaking the almonds around after the first five, so prevent any burning
Let them cool for at least thirty minutes
7.6.4
67
http://thehonoursystem.com/2013/04/03/dry-roasted-almonds/