Healthy Butterfinger Bars. Boom. 😉
The texture and the combination of flavours are spot . on . for a Butterfinger. I imagined a great post for Halloween featuring these babies but then decided that would border on criminal. I can't, in good conscience, keep these to myself.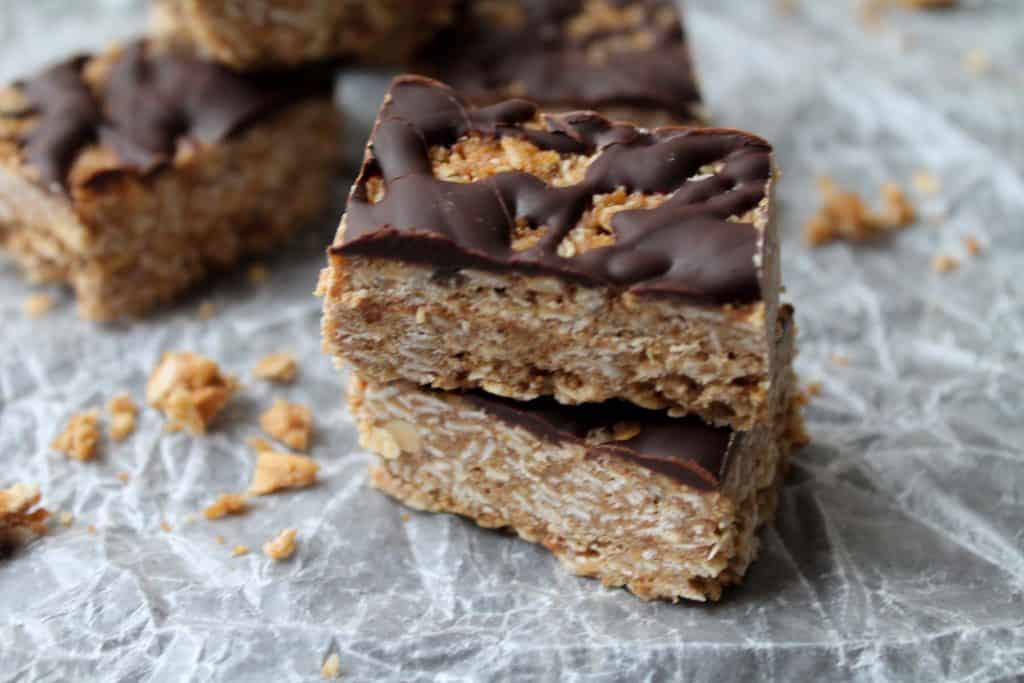 I've seen various knock offs for Healthy Butterfinger Bars floating around the web here and there, but they always call for some strange science-y sounding ingredient that I simply don't have and probably never will. I mean, what the heck is guar gum?
Regardless, this Honour System knock off has only common pantry ingredients. Oats? Check. Peanut Butter? Check. Coconut Oil? Chocolate Chips? Coconut Sugar? Checkity-check check. Oh, and you have to be able to stir. I think we can handle this.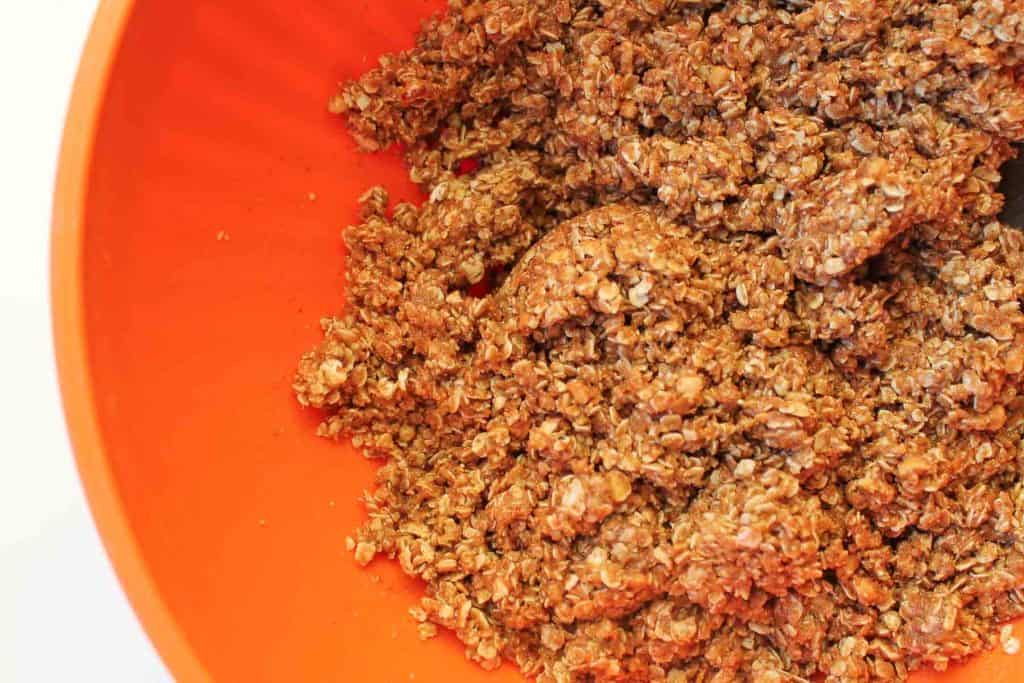 Pressing the Butterfinger mixture really well into the dish helps it hold together well.
Then get your drizzle on! You could layer the heck out of this with chocolate if you wanted to but since I'm trying to keep it healthier, the drizzle helps cut down on calories you really don't need. You aren't going to be wanting anything else. Trust.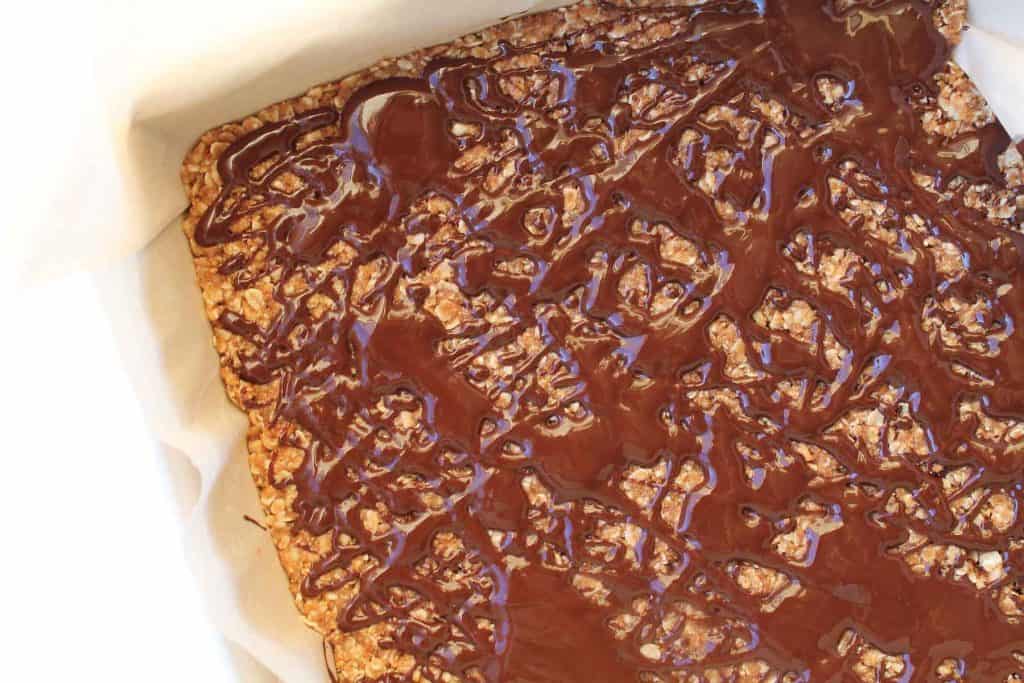 I sliced them into small-ish squares to maintain some kind of portion control. I ended up having quite a few squares. At least I attempted portion control, yes? 😉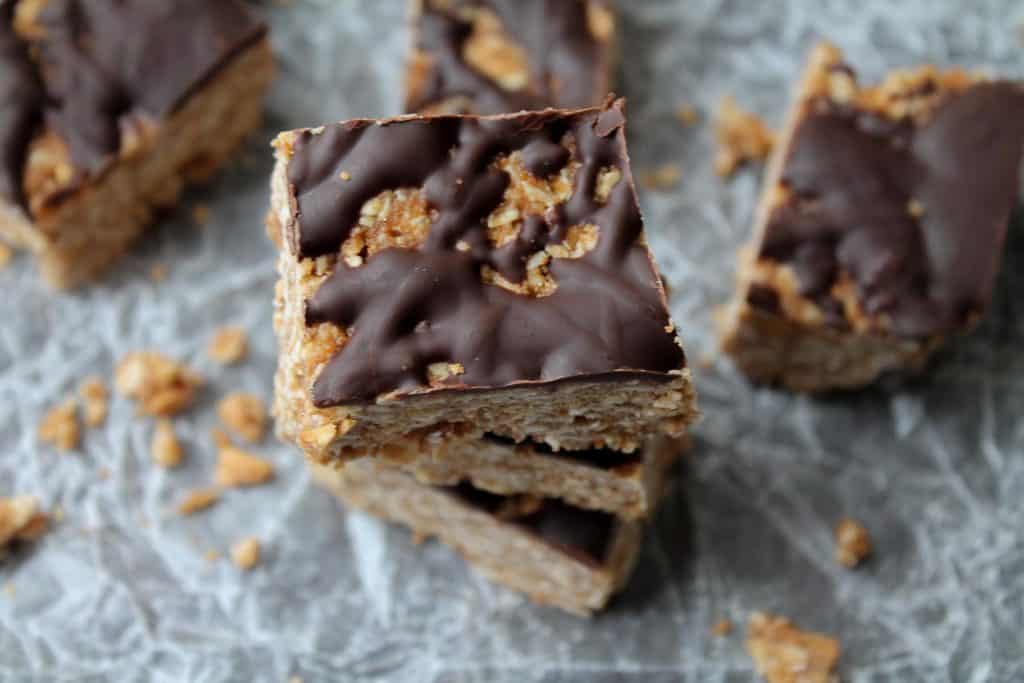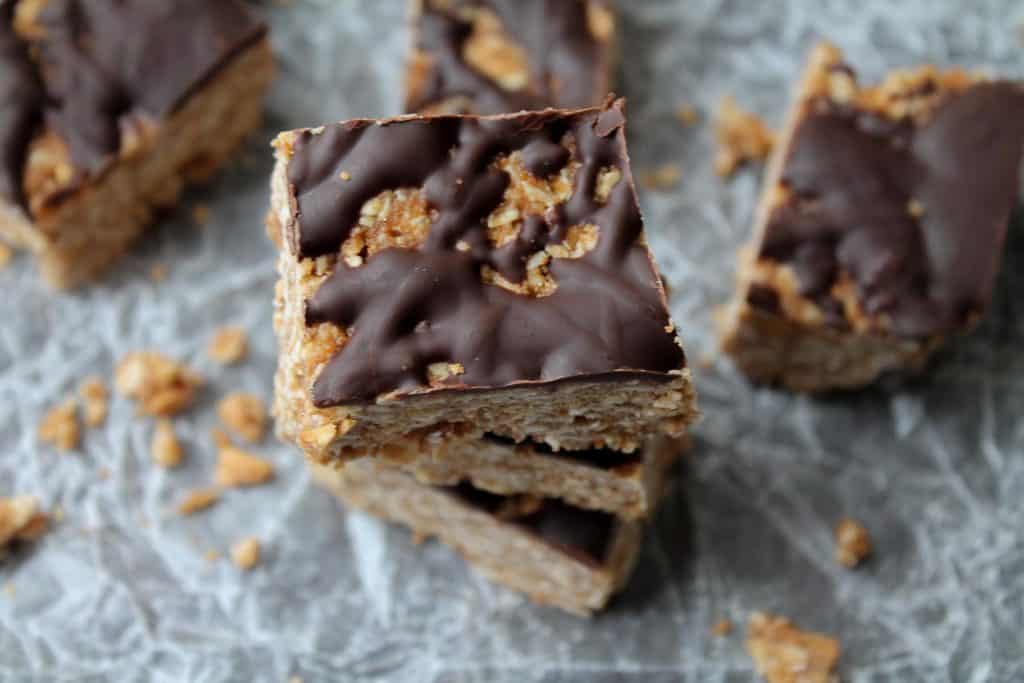 I strongly recommend giving these Butterfinger Bars a go. They just might make your weekend!
As an Amazon Associate I earn from qualifying purchases.
Healthy Butterfinger Bars – Vegan & Gluten Free
Keyword:
healthy butterfinger bars, vegan gluten free butterfinger bars
Instructions
In a large mixing bowl, whisk together 1/2 cup of melted coconut oil with the peanut butter, coconut sugar and vanilla until smooth

Stir in the oats and mix until well combined

Line a 9x9 with parchment paper and press the mixture into it. I used the back of a flat spatula to really press it in really well. This will help it hold together

Place the 9x9 in the freezer

Meanwhile, in a small saucepan over low heat, melt together the chocolate chips and the 1 tbsp. of coconut oil, stirring until smooth

Remove the 9x9 from the freezer and using your spoon, drizzle the chocolate over top in any pattern you wish

Return the 9x9 to the freezer for an hour to set

Cut into squares and store covered in the fridge or freezer
Nutrition Facts
Healthy Butterfinger Bars – Vegan & Gluten Free
Amount Per Serving
Calories 269
Calories from Fat 135
% Daily Value*
Fat 15g23%
Cholesterol 1mg0%
Sodium 91mg4%
Potassium 123mg4%
Carbohydrates 29g10%
Protein 5g10%
Vitamin A 20IU0%
Calcium 21mg2%
Iron 0.9mg5%
* Percent Daily Values are based on a 2000 calorie diet.