One thing I will say about my Whole 30 experience (this is Day 13 ), is that I've become much more aware of how many veggies I'm eating. Where I would typically have a grain, like some cooked quinoa or brown rice, I now am substituting another vegetable. I like to think my green smoothies are enough when it comes to veggie intake, but you can never eat too many and it's good to get a variety of them to maximize the nutrients available.
It's kind of surprising I've never tried Garlic Mashed Cauliflower before. I mean, it's not like this is a new culinary discovery or anything. I wanted a satisfying side dish to go along with some roasted chicken and there happened to be a nice head of cauliflower calling my name at the store. They will soon be out of season, so now is the time, right?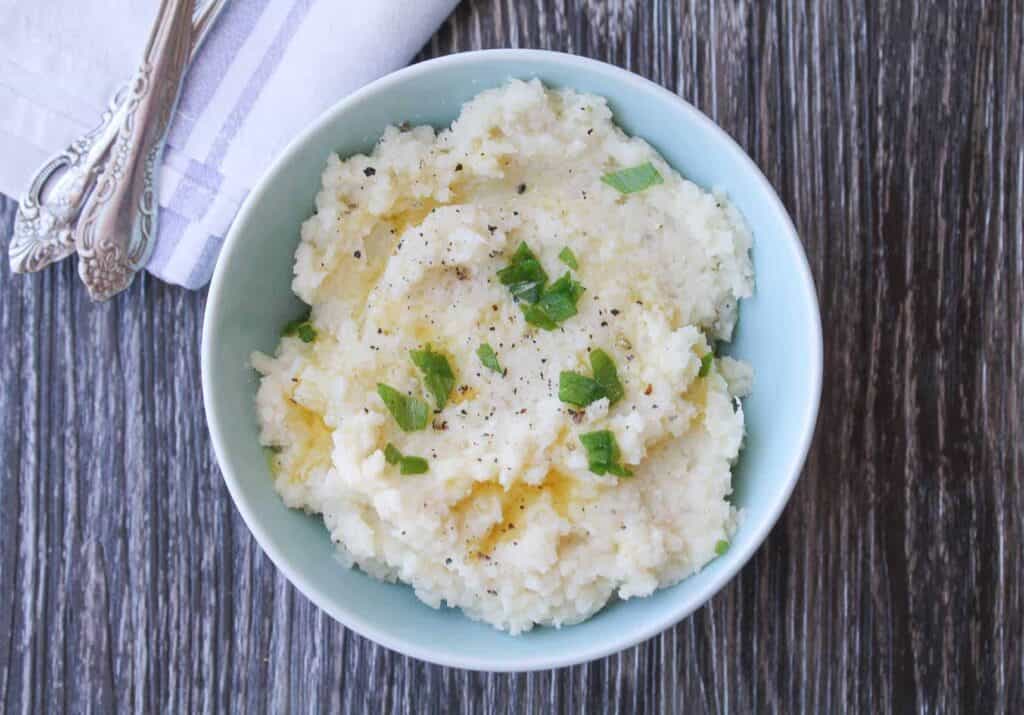 The process is basically like regular mashed potatoes. Boil water, add cauliflower florets, and drain when they slide off the fork. The only difference is to give these a good drying off so they aren't soggy. The cauliflower absorbs a bit more moisture than potatoes will.
Because I wanted to take this side dish to the next level I roasted some garlic to add in. I use –> this method for roasting garlic. Then  I pureed it together with the cauliflower using an immersion blender, but the regular potato masher will work just fine.
You can dress these up however you like. I drizzled a bit of olive oil, liberally sprinkled on sea salt and chopped green onions.
Delicious!
I have to give the garlic mashed cauliflower a thumbs up. It's a nice, satisfying side dish that I'll definitely be making again.
Garlic Mashed Cauliflower – Vegan & Gluten Free
Ingredients
1 head cauliflower, cut into florets
2 tbsp. olive oil
3 cloves roasted garlic
1/4 cup chopped green onions
sea salt & pepper to taste
Instructions
Bring a large pot, about 4-6 cups, of salted water to boil ( you could also use broth for added flavour)
Add the cauliflower florets, stir and boil for about 6 minutes, until softened and the florets slide easily of a fork
Drain the cauliflower, rinse, then pat the florets dry with paper towels or a clean kitchen towel and return to the pot
Add olive oil, roasted garlic and sea salt and pepper to taste
Mash with a masher or use an immersion blender to achieve your desired consistency. I like mine with a few bigger pieces remaining for texture, but some like really smooth. Do you.
Top with green onions
7.6.4
486
http://thehonoursystem.com/2015/04/13/garlic-mashed-cauliflower-vegan-gluten-free/