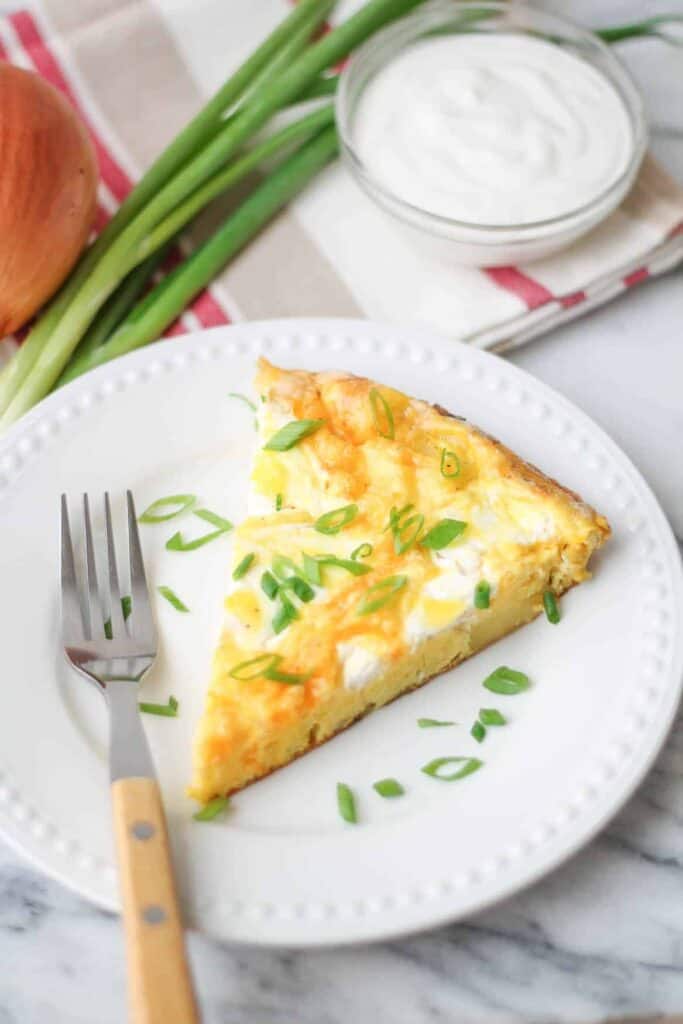 After Joe was not a fan of my latest recipe, I was hesitant about presenting him with dinner last night. It never sits well with me when he isn't nuts about things I make. His opinion is important and I always want to earn my two thumbs up. I do realize there are things he's just not going to enjoy. Healthy food can be challenging sometimes things I will eat, he just won't. To his immense credit he will at least try most of what I make and drinks green smoothies with me all the time, so three cheers for Joe!
Anyway, back to last nights dinner.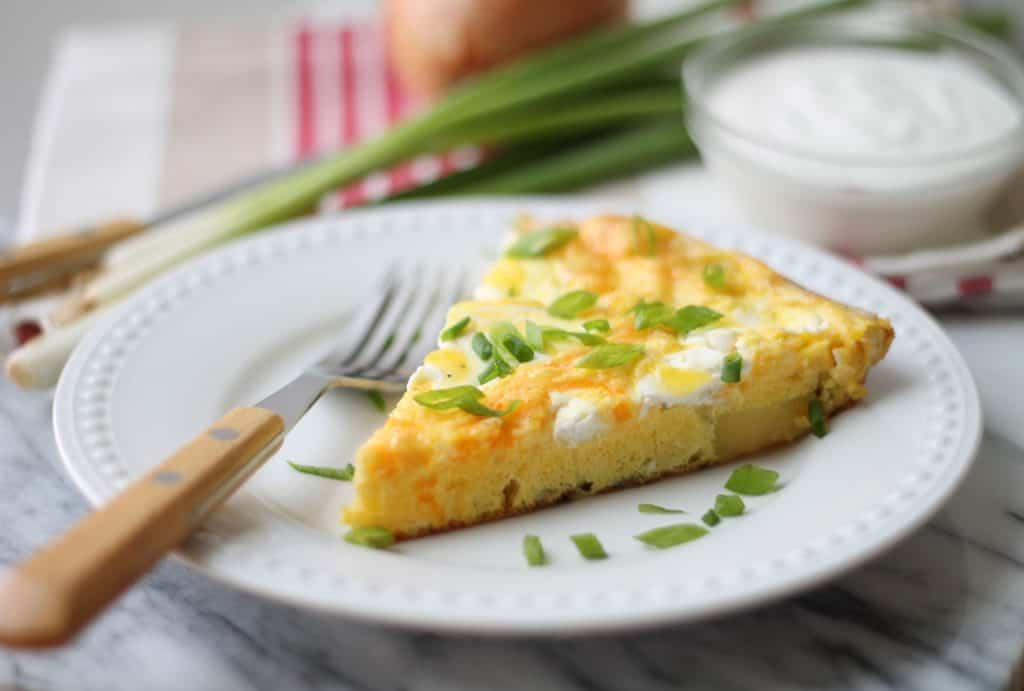 I went with a frittata as they are pretty easy to whip up and I had a beauty little bag of organic new potatoes just begging to be cooked.
Going meatless for dinner is something we like to do a few nights out of the week.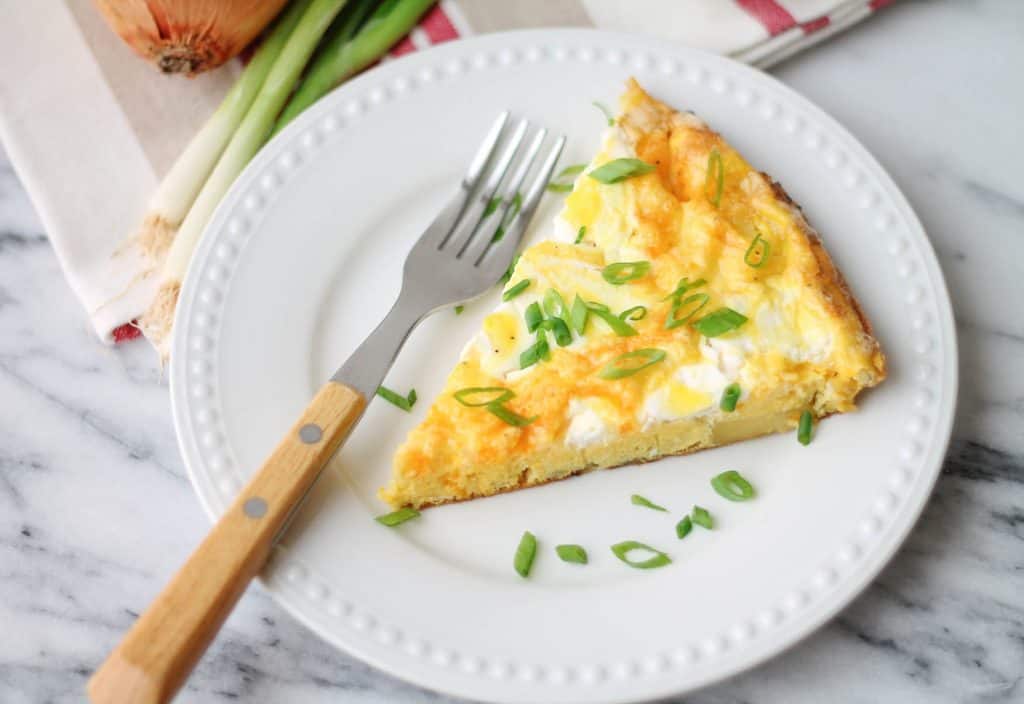 It helps keep our grocery bill down a bit and it's nice to mix things up from the same old meat and potatoes. Luckily this recipe does have potatoes which is why, although a tad apprehensive, I felt strongly Joe would like it.
When he asked what was for dinner and I said "Sour Cream & Onion Frittata", I'm pret-ty positive he heard sour cream & onion chips. He seemed pumped. 😉
Long story short, it was a winner, winner, meatless dinner. Cue the happy dancing. Serve it up alongside some greens and/or fresh bread and you have yourself a satisfying, flavourful meal.
Enjoy! 🙂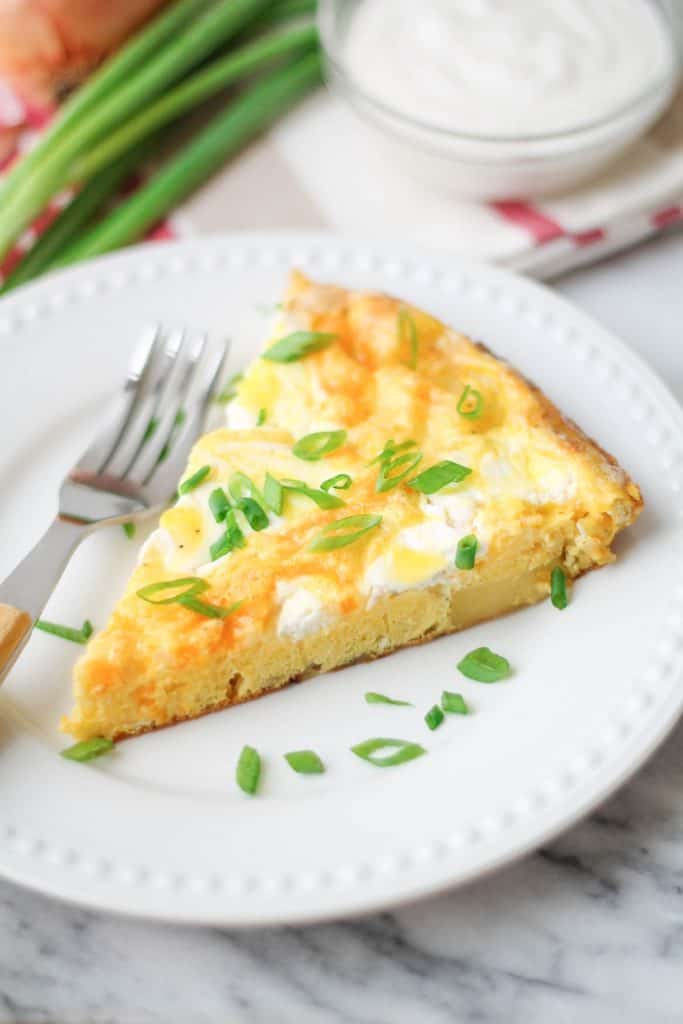 Yields 6
Sour Cream & Onion Frittata - Gluten Free
Ingredients
1 lb new potatoes
1 1/2 tbsp. each olive oil & butter
1 medium onion, thinly sliced
3/4 cup shredded cheddar cheese
10 eggs, beaten
1/2 cup sour cream
Instructions
Place potatoes in a medium sauce pan and cover with water. Bring to boil over high heat. Once bubbling reduce heat to medium and simmer for 10-12 minutes, until the potato sides easily off of a fork
Drain potatoes and set aside to cool. Once they have cooled, peel the potatoes and slice them into 1/4 inch think slices
Preheat the oven to 400 and set a large, non stick skillet over medium heat. Toss in the oil and butter and let them melt together. Add the onions and sauté them until softened, about 3-5 minutes. Add the sliced potatoes and cook, stirring once or twice, until golden. About 5 minutes
Stir the shredded cheese into the beaten eggs and season with sea salt and pepper. Pour mixture over the onions and potatoes in the skillet. Dollop with the sour cream and use a spoon to swirl the sour cream evenly around the frittata. Let cook over the medium heat until the edges are set, about 2-4 minutes
Transfer the skillet to the preheated oven and cook until the eggs are set. There should be no eggs jiggling. I usually cook mine for 12 minutes, but check after 10
Loosen around the edges with a knife and slide the frittata onto a cutting board. Allow it cool slightly before slicing and serving
7.6.4
29
http://thehonoursystem.com/2015/07/22/sour-cream-onion-frittata-gluten-free/