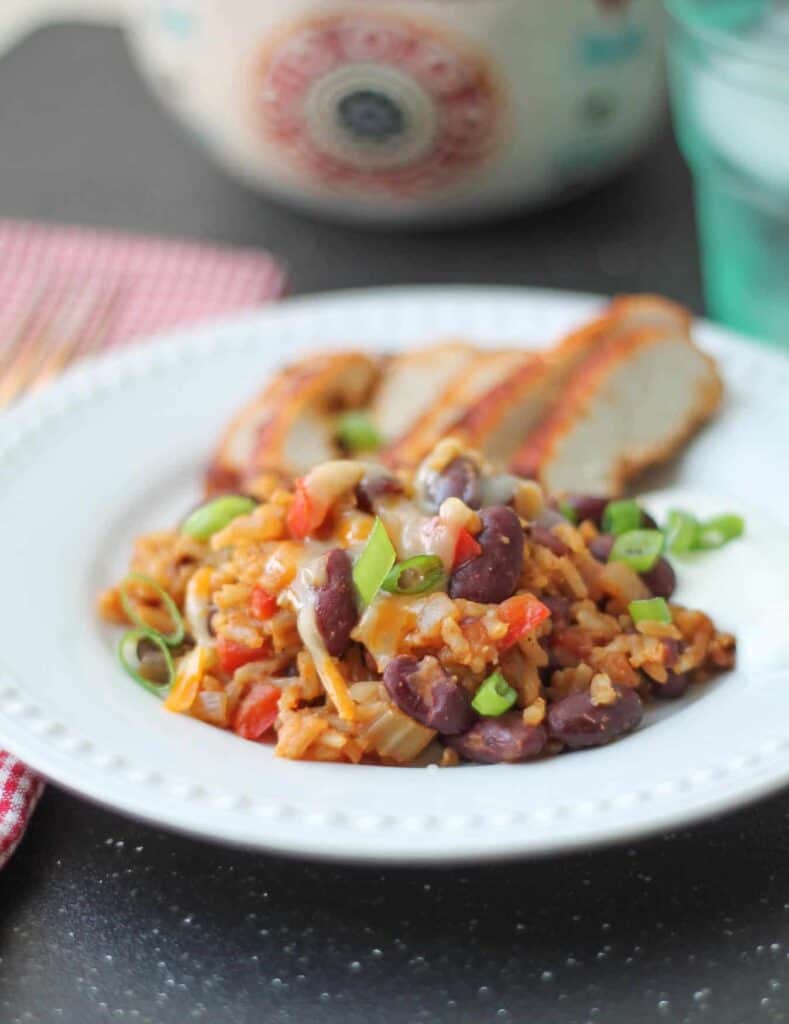 It seems that fun and interesting side dishes are few and far between. I know a lot of women (men too!) struggle to put something other than the usual potatoes or salad on the plate as a side. If this sounds like you, then say a warm, spicy welcome to this One Pot Mexican Brown Rice & Beans.
I'm a HUGE fan of Mexican inspired cuisine. I love the fresh flavours, the hot sauces, the variety of veggies, the hot sauces, the quality protein, the hot sauces.
You get the picture. 😉 
This side dish is pretty easy to throw together also. I started by getting some Chili Lime Chicken in the oven.
Recommended.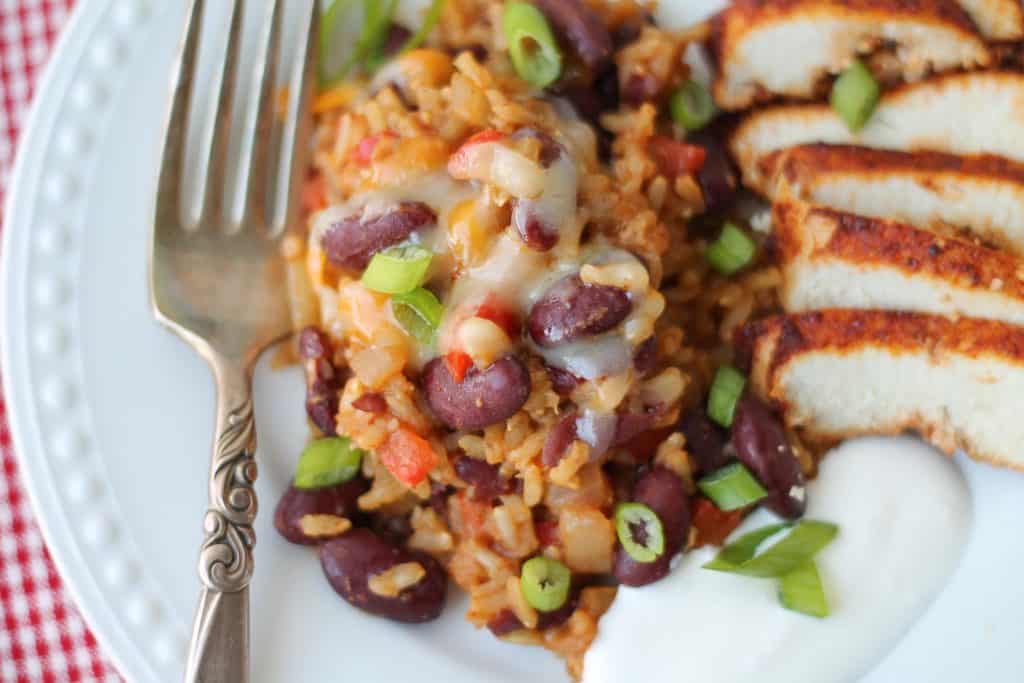 Then I sautéed up my veggies in a saucepot, added the brown rice and beans along with some veggie broth and BOOM! Twenty minutes later you are in business. Sprinkle the rice and beans liberally with cheese, fresh cut green onions and a dollop of sour cream.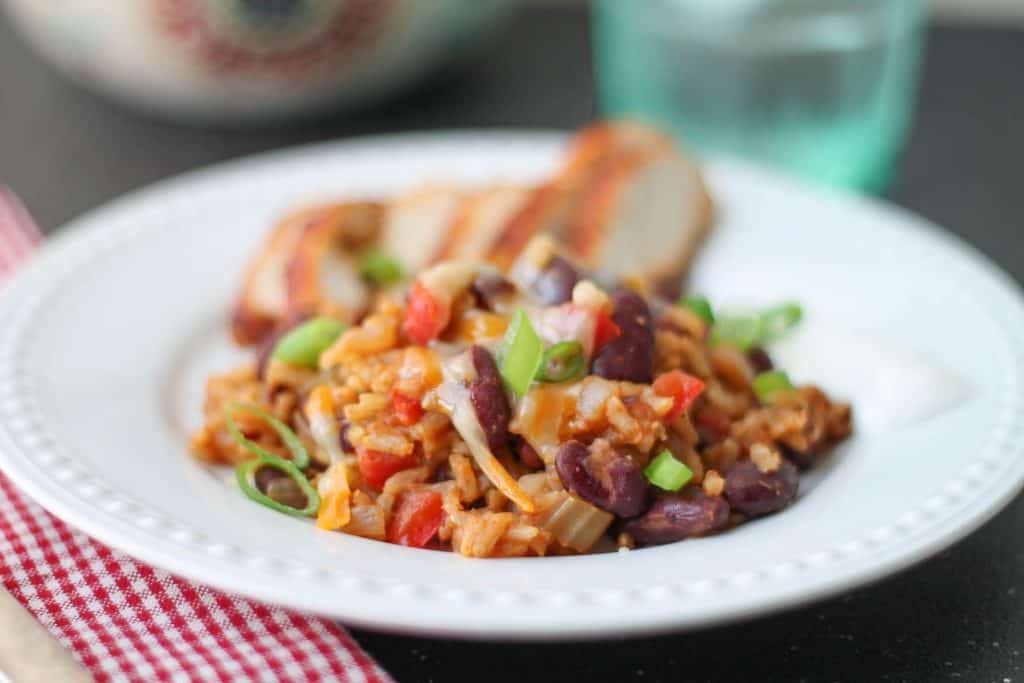 Don't worry about it being to fiery for the kids either. I only added a bit of chili powder and cumin to this recipe. For those who like it a little spicier, the hot sauce bottle can be your friend. I mentioned hot sauces, right? 😉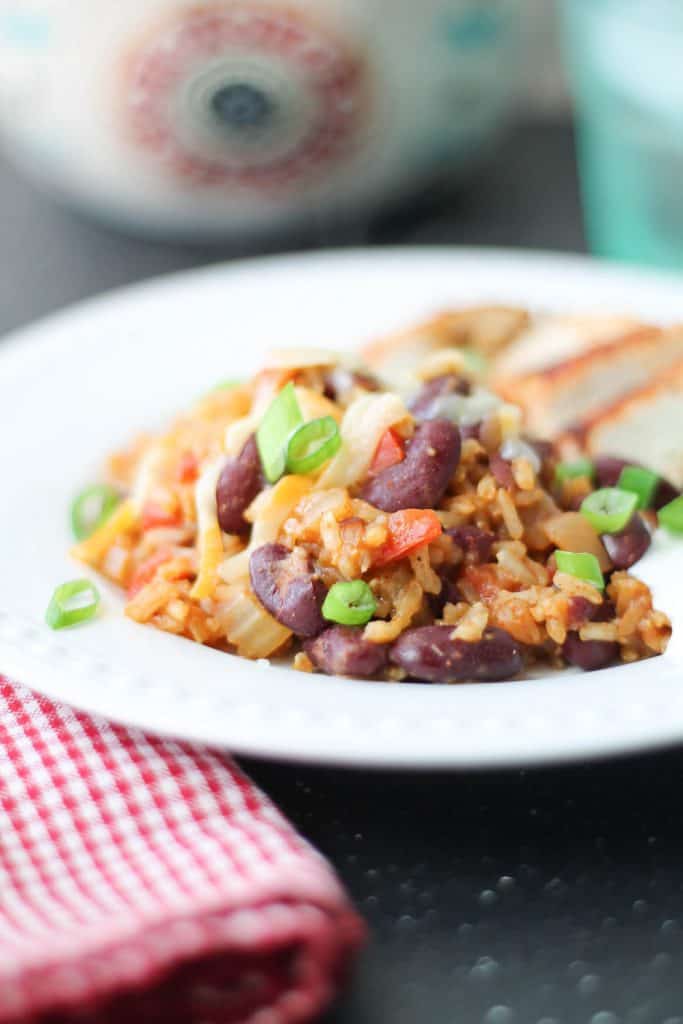 Can I say a quick word about that cheese and sour cream? It's a good idea to choose good quality, organic dairy products, local if possible. Supporting your local dairy farmers reduces your impact on the environment and will put  jobs and dollars back into your own community. That's important, don't you think?
OK, soap box time is over. Onto some yummy rice 'n beans. 
Have yourselves a great weekend, everyone!
Yields 4-6
One Pot Mexican Brown Rice & Beans - Gluten Free
Ingredients
2 tsp olive oil
1 medium onion, diced
1 red pepper, diced
2 stalks celery, diced
2 cloves garlic, minced
3/4 cup brown rice, rinsed
1 can kidney beans, drained and rinsed
2 tsp chili powder
1 tsp cumin
2 cups of broth/water, divided
garnishes - shredded cheese, chopped green onions, sour cream
Instructions
Heat the olive oil in a medium saucepan over medium low heat. Add the onion, peppers, and celery along with some salt and pepper. Stir and sauté until soft, about 5 minutes. Stir in minced garlic and keep stirring for another minute
Add the spices, beans, rice and 1 cup of the broth/water. Stir really well and simmer, covered for about 25 minutes. Stir every five minutes or so and add more water or broth when needed. I used about 2 cups. Check the rice by taste testing to make sure it's cooked through and not crunchy
Serve warm topped with shredded cheese, chopped green onions and sour cream.
7.6.4
30
http://thehonoursystem.com/2015/07/24/one-pot-mexican-brown-rice-beans-gluten-free/