This Spicy Ranch Dressing reminds you just how easy it is to "do-it-yourself". Simply stir together a handful of ingredients and your salad is elevated to a whole new level. Creamy with a hint of heat, this dressing is a keeper.
I've never been one to shy away from fancy food items at shi-shi grocery stores. Some people like glamorous clothes or high heels whereas I go for pure maple syrup and organic butter. In this case I splurged on a jar of avocado mayo. It wasn't a planned purchase but it turned out that my risk paid off and the mayo was a success. Was it worth the $12 price tag?
After a successful tuna sandwich using my fancy schmancy avocado mayo, I turned to salad dressing. Making your own dressing is something so simple, yet dressing bottles still line the store shelves. This is the ingredient list form Kraft's Ranch Dressing –>
Ingredients: Canola Oil, Buttermilk (Milk Solids, Salt, Bacterial Culture), Water, Egg Yolks, Vinegar, Sugar, Salt, Garlic Juice, Dried Buttermilk, Natural Flavours, Xanthan Gum (Thickener), Phosphoric Acid (Enhances Tartness), Spices, Yeast Extract (Natural Flavour Enhancer), Dried Parsley, Lemon Juice Concentrate, Silicon Dioxide, (B466A) Contains: Milk, Egg.
Scroll down for my ingredient list. Much shorter and much easier to pronounce. Nothing named B466A, I promise. 😉
Start with a simple balsamic dressing, store it in a mason jar in your fridge and you will never look back. Trust.
There was a Cobb Salad recipe calling my name which I thought a creamy, yet spicy dressing would go really nicely with. Enter this Spicy Ranch Dressing.
Lately, I've found myself craving bacon like you wouldn't believe. It's something I haven't had much of since embarking on the the Whole 30 challenge last year. Not because I don't like it, but because to buy the 'approved' bacon is also not cheap.
Come to think of it, between the pricy avocado mayo, the organic chicken breast, free range eggs, and the sugar free, humanely raised bacon, this salad cost me a fortune! I guess in the grand scheme of things I would have paid the same for two protein packed salads at a restaurant but not been assured of any quality of ingredients.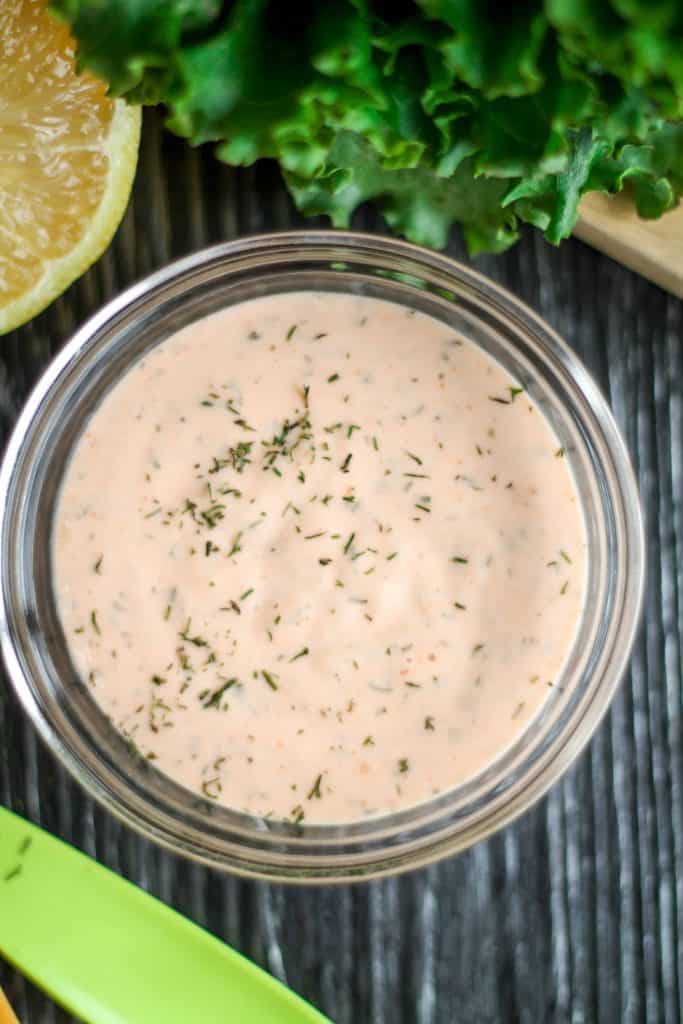 Does anyone else feel like it's a crime for food suppliers to gauge consumers for organic food? It should all be organic, just called food and priced for massive amounts of consumption for families of all income levels. This is a basic need of life. Our communities should be heavily promoting the need for people to eat whole foods. I'd bet more folks would eat whole foods – the foods- if they could afford "Whole Foods" – the brand-.
Maybe the scientists could focus more on curing cancer or AIDS instead of engineering GMO seeds that produce Franken food. Mother Nature has that one down, Dr. Scientist, sir. Food is covered. Move on, please.
Thanks for indulging my rant. It looks like somebody spent a few too many dollars on groceries today … and now that my soapbox moment is over, I'm off to enjoy what I like to call my million dollar Cobb Salad with Spicy Ranch Dressing. 😉
Yields 1
Spicy Ranch Dressing
Ingredients
1/2 cup mayo (I used avocado mayo)
1 tbsp fresh lemon juice
2 tsp onion powder
1 tsp garlic powder
1/2 tsp dried dill
1 1/2 tbsp hot sauce
Instructions
Combine all ingredients in a small bowl and mix well. Store in the fridge in an airtight jar for up to a week, stirring before each use
7.6.4
61
http://thehonoursystem.com/2016/07/30/spicy-ranch-dressing/